Give me two-thirds majority, I'll change the system: Dr Tahir ul Qadri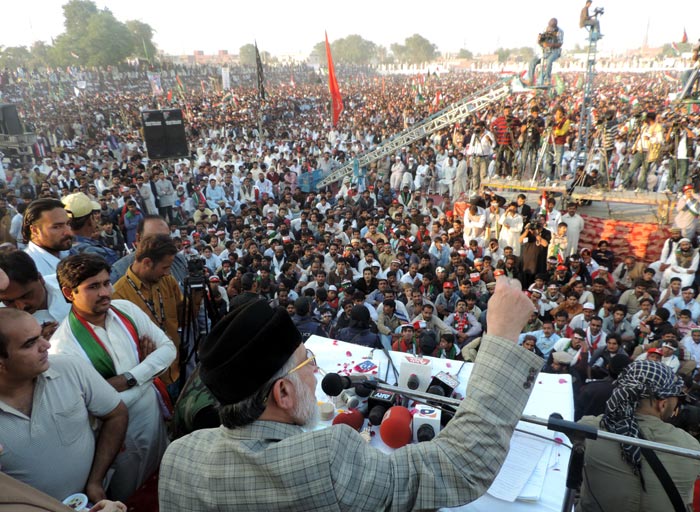 BHAKKAR: (Dunya News) – Pakistan Awami Tehreek (PAT) chief Dr. Tahirul Qadri has said that if his party got two-thirds majority, he would bring the change. He said that he needed two-thirds majority from Peshawar to Karachi.
Addressing the PAT gathering in Bhakkar on Sunday, Dr Tahirul Qadri said that terrorism and sectarianism will be eliminated from Pakistan under PAT rule. "Poor will get health facilities free of cost. Discrimination against women will end. Poor farmers will be given 10 acres of cultivable land absolutely free. Entrepreneurs will be given small loans. Disparity between salaries will be minimized. Free houses will be provided to the homeless. House loans for 25 years will be provided. Petroleum products' prices will be brought down," said Qadri.
Dr. Qadri said that the war between the rich and the poor of Pakistan has started. He said that he wanted to channelize the awareness that has been given to the people of Pakistan through the recent sit-ins and protest movement. He promised to bring change if the people gave him two-thirds majority.
PAT chief said that the first test will be on November 29. He asked the people to vote for PAT candidate in November 29 elections. He said that 90-day sit-in has given awareness to the Pakistanis. "People are now challenging the rulers who have never allowed them their rights", said Qadri.