People to get edibles at half of their prices after PAT comes into power: Dr Tahir-ul-Qadri
Vows to free the nation from clutches of the interest groups.
Says his life is dedicated to the poor. Will continue to fight for their rights till last breath of his life.
Damns such a system in which a poor's kid dies of hunger while horses of the rich eat costly food.
Says he saw poverty at its worst on his way to Bakhar. Asks rulers whether they do not consider residents of Bakhar as humans.
Addresses thousands of participants of sit-in.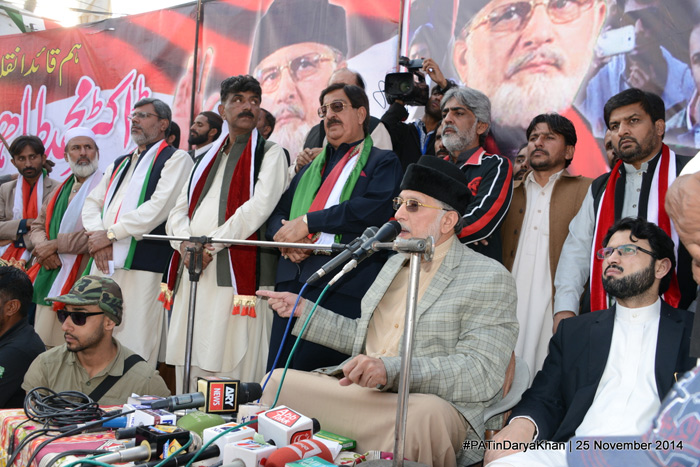 PAT chief Dr Muhammad Tahir-ul-Qadri has said that if the PAT comes into power with two/third majority, the poor will get bills of electricity, gas and water at half of their tariffs. He said that ration depots will be established within 90 days since formation of PAT's government where the poor citizens will get flour, ghee, rice, sugar, pulses, clothes and oil at half of their prices. He said that a High Court bench will be established at district level and that of Supreme Court at divisional level. The Sessions Courts will be established at Tehsil level. He said that we would strengthen local government system so much that MNAs and MPAs will envy it. He said that if an SHO fails to register an FIR on the complaint of aggrieved party within 24 hours, his services will be terminated. He said that there will be district governments and district legislatures at the district level, adding that he has formulated such a system after studying various models in the world in which no one will be able to do injustice to the other. He said that all discretionary powers in terms of distribution of resources will be done away with. He said that he is thinking to establish his house and electoral constituency in Bakhar, adding that no citizen will need to get out of his district for any kind of work as all their requirements will be met at the local level.
Dr Tahir-ul-Qadri expressed these views while addressing PAT sit-in in Dilluwala area of district Bakhar on November 25. Thousands of people and workers including women and children attended the sit-in. PAT Supreme Council President Dr Hassan Mohi-ud-Din Qadri, Khurram Nawaz Gandapur, PP-48 PAT candidate Nazar Abbas Kahawar, Bashrat Aziz Jaspal, and other local leaders were also present on the occasion.
Dr Tahir-ul-Qadri said that people would not be voting for Nazar Abbas when they go to the polling stations on the election-day; rather they would be voting for him. He said that their vote would be an expression of their support to him in his struggle against the anti-poor system. He said that the country remains in the cruel clutches of the big business, feudal lords and capitalists, vowing that he would continue to fight to free the country from their iron hands till the last breath of his life. He said that he damned such a system in which a poor family's son is killed and they are not able to get FIR registered; a system in which the children of the poor die of hunger while the horses of the rich get costly food. He said that he saw poverty at its worst during his journey from Lahore to Bakhar. He asked the rulers of Islamabad and Lahore whether the human beings did not live in these poverty-stricken areas. He said that while the killers of 14 people remain at large, arrest warrants of justice seekers have been issued.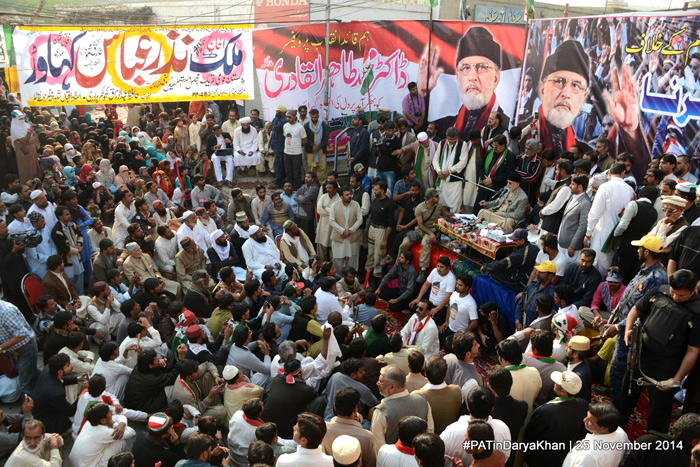 Dr Qadri said that he is not interested in power or government for himself as he gives no importance to these things, adding that his sole interest is that the poor get food, their children get education and jobs and socio-economic justice is available at their doorsteps for free without any discrimination. He said that he would fight for the rights of the poor and downtrodden sections of society till the last breath of his life.
Dr Tahir-ul-Qadri stated he is extremely ill and the doctors around the world who love him have advised him to take rest and suspend his political activities but his heart is burning in the fire of the poor's pain and agony. He said that the fight that the oppressed have started against the oppressors, he would take it to its logical end. He said that expired gas shells were fired at PAT workers on the intervening night between August 30-31 and this illness is a 'gift' of shelling of that night. He said that Allah has given him life for the sake of the poor and he would die while fighting for their rights.
While mentioning the conditions the people of South Punjab are living in, tears came into the eyes of Dr Tahir-ul-Qadri. He said that the people even do not know what the so-called representatives will be doing in Lahore and Islamabad for whom they are voting. He said that PAT's revolutionary struggle is for restoration of the rights of the poor. He said that the Quaid-e-Azam founded Pakistan so that all citizens of the state, irrespective of their class and status in society, should be able to get their rights without any discrimination, adding that contrarily some powerful interest groups have held the country hostage. He said that he wants such a democratic system in which the governments do not even think of baton-charging those raising their voice for rights instead of practically torturing them. He said that the rulers who suspect patriotism and loyalty of others have spent each and every day of their rule by violating the Constitution. He asked the rulers to answer as why they have turned Election Commission into a laughing stock and why they are averse to the idea of holding local government elections.
Dr Qadri said is it a democracy that the Prime Minister and the Chief Minister become undisputed master of the nation's destiny and use state resources as their personal wealth? He said that our revolution will make people shareholder in decision-making and resources.
Talking with reference to International Day for Elimination of Violence against Women, he said that women suffer more atrocities and exploitation in Punjab in comparison to their counterparts in other provinces. He said that the First Women Bank has become bankrupt due to nepotism and corruption of rulers. He said that the Bank was established for welfare of the womenfolk but due to top heavy management working on hefty salary packages that was appointed on the recommendations of the high and mighty, the Bank has failed miserably. He said that if the present lot of rulers continues in power, our state institutions and public sector entities will be sucked dry and rendered bankrupt, adding that their ouster from power is in larger interest of the nation. He said that on extension of formal invitation from PTI regarding Nov 30 public meeting in Islamabad, he would consult his party leaders before taking a decision on it. He, however, said that both PAT and PTI leaderships are in constant touch and news of differences among them are product of conspiratorial minds.