Government has no vision to steer country out of crisis: Dr Qadri addresses flood victims in Chiniot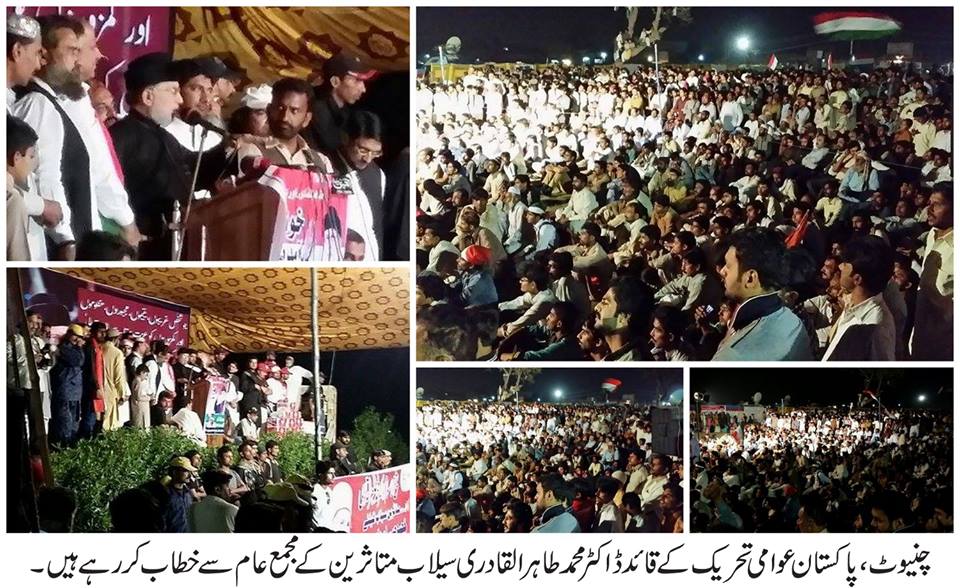 Pakistan Awami Tahreek Chief Dr Tahirul Qadri has said that the present government has neither vision nor capacity and future planning to steer the country out of the prevailing crisis.
Addressing his workers at sit-in here on Thursday via video link from Chiniot, he strongly criticised the present government as well as system, saying that they had completely failed to provide any relief to the common man. The political elite of the country had made the institution subservient, he added. As a result, he said that these institutions had become dysfunctional.
The Constitution had virtually been suspended and true democracy was missing, he said, adding that if there is Constitution and true democracy in the country, the poor people would not be facing these hardships. The PAT chief said that hundreds of families were affected by the flood every year but the government had done nothing to secure them. There was no justice in the country and the common man had to mortgage his generations to get justice.
He also narrated the ordeal of a poor woman in flood affected areas that how she received inflated electricity bill of over Rs 128, 000 for a small house. He said that she was unable to get corrected his electricity bill from the concerned distribution company despite many visits. Tahirul Qadri alleged that the officials of distribution companies had been sending inflated electricity bills to the consumers on the directives of government.
Qadri further said that rulers were robbing the people through electricity bills and taxes but their animals had more rights than the poor. "Dogs and horses of the rich have more rights that the poor people of the country," he lamented. He said that the Prime Minister had misstated to the flood affected people that their two months electricity dues would be waived off. He said hat the rulers would never give rights to the people as it was evident from the fact that almost 30 articles of the constitution dealing with people rights had been suspended.
Qadri said, "We are believers of the Constitution but Article 9 to 38, which deals with the people rights have been suspended. We want the implementation of all the articles of the Constitution and a participatory democracy." He added that corruption was prevalent at all levels.
Source: http://www.brecorder.com/general-news/172/1233359/