PAT holds protest rally in Dera Ghazi Khan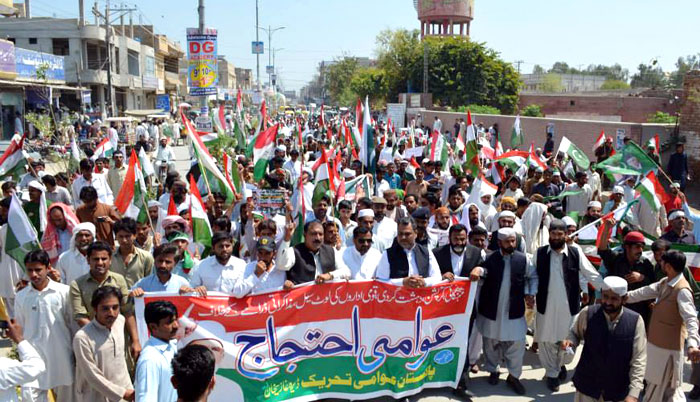 As part of campaign to protest massive price hike, unemployment, terrorism and privatization of national assets, Pakistan Awami Tehreek (Dera Ghazi Khan chapter) took out a rally under the leadership of PAT central President Sheikh Zahid Fayyaz. The rally was attended by workers of Minhaj-ul-Quran Youth League, Pakistan Awami Tehreek, Minhaj-ul-Quran Women League, Majlis Wahdtul Muslimeen and men and women in large numbers. The participants of the rally were chanting slogans against price hike, poverty and terrorism. They were carrying placards, flexes and banners with anti-inflation slogans written on them. They flayed government's policies that increased their miseries.
Addressing the participants of the rally at traffic square, PAT central President Sheikh Zahid Fayyaz said that revolutionary steps were needed to get rid of scourge of terrorism. He said that those elected to provide leadership at this critical juncture did not have the vision and ability to steer the country of myriad problems in which it was stuck up. He said that everyone knows as to who was responsible for lawlessness but still nothing was being done to stem the tide. He said that efforts for peace making failed with the result that bomb blasts and incidents of terrorism continued to occur adding to human toll.
PAT President said that privatization of state-owned entities would result in massive lay-offs. He said that Pakistan was not a personal property of anyone that its assets could be sold at will. He said that the country belonged to 180 million people, adding that if acts of robberies did not stop, a revolution of 10 million people was on its way. He said that PAT would cancel all such privatization deals and hand over the national assets back to the people.
Riaz Ahmad Alyani, District Organizer PAT Dera Ghazi Khan, said in his speech that people had become aware of their rights and were ready to play their role under the leadership of Dr Tahir-ul-Qadri. He said that the poor people were the sole support of Dr Qadri and he was struggling for restoration of their rights. The rally was addressed by Qamar Abbas Dhool, Tariq Rahim, Khawaja Javed, Ghulam Haider, Amir Muhammad and Mufti Jamil Qadri.