PTI leaders, Dr Tahir-ul-Qadri discuss electoral alliance, ECP reconstitution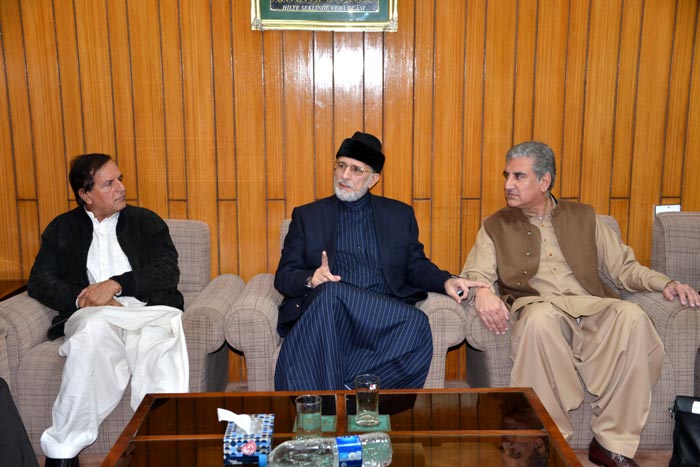 The anti-status quo forces, which stand for change in the country, should forge unity with each other and launch a collective struggle. Parliament failed to deliver and it is democracy, which has earned a bad name. We want supremacy of Constitution and law in the electoral process for which reconstitution of an independent and powerful Election Commission is need of the hour. Change is a shared objective of Pakistan Awami Tehreek and Pakistan Tehreek-i-Insaaf.
Dr Muhammad Tahir-ul-Qadri expressed these views while talking to media men after meeting a high-powered delegation of Pakistan Tehreek-i-Insaaf that held extensive discussions with him in the central secretariat of PAT. The leaders of both parties discussed current political situation. The PTI delegation was led by Vice Chairman Shah Mahmood Qureshi, PTI President Javed Hashmi, Secretary General Dr Arif Alvi, Ijaz Chaudhry and Ferdous Shameem Naqvi.
Speaking on the occasion, PTI President and veteran politician Javed Hashmi paid glowing tributes to the leadership of Dr Tahir-ul-Qadri and workers of MQI and PAT who held the historic Long March in Islamabad and braved inhospitable weather conditions including frost and rain to practically raise the slogan of change in the rotten system of the country. He said that the corrupt oppressive system had shackled the entire nation and collective efforts were required to break its hold. He said that this meeting between leaderships of PAT and PTI was initiation of the same process.
In his views on the occasion, Shah Mahmood Qureshi, PTI's Vice Chairman, said that the rulers were responsible for the present state of affairs in which the country was stuck up. He said that there was a complete agreement that everything should happen within the ambit of Constitution. He said that future of this country lay in transparent democracy and the only way of bringing about change was through fair, free and transparent elections.
In reply to a question, Dr Tahir-ul-Qadri said that he wanted the elections to be held on time. When asked about conspiracies being talked about deferment of polls, he said that those talking of conspiracies were better positioned to answer this question.
Dr Qadri made it clear that his party wanted reconstitution of Election Commission because it was not constituted as per law and Constitution in the first place. He said that he was going to file a petition in the Supreme Court and would argue the case himself. He said that he would accept the verdict of the Supreme Court both in letter and spirit. He said that the Election Commission had a key role to play in organizing, conducting and overseeing electoral process and hence there would be no compromise on independence and authority of the EC.
The leaders of both parties expressed their satisfaction over the negotiations and decided to continue the consultation process. It may be kept in mind that this was the first contact between PTI and PAT.
Press Conference
Alternate Link