I hold judiciary in the highest esteem: Dr Tahir-ul-Qadri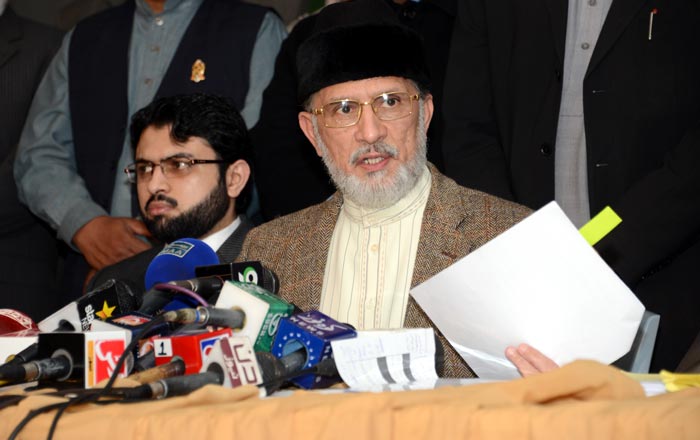 Addressing a crowded press conference in Lahore on February 14, Dr Muhammad Tahir-ul-Qadri has said that he is professor of law and holds the court in the highest esteem. He made it clear that he would not launch any movement against the judicial observation in regard to his petition. He said that his movement was for the purpose of nation building, which would continue unabated with the same zeal and zest. He said that he wanted to give a bright future to the nation by enabling to get rid of the worst oppressive system.
Dr Muhammad Tahir-ul-Qadri said that it was a national tragedy that those who sent billions of dollars in the form of remittances back home were being regarded as second-class citizens while the rulers who laundered billions of dollars abroad were regarded as loyal to the country.
He said that Dr Asim, a dual national and Advisor to PM on Petroleum, was clinching a number of agreements of strategic importance including Iran-Pakistan gas pipeline project. Does his loyalty not become dubious because of his foreign nationality? By rendering the dual nationality issue disputed, we were giving an opportunity to the world not to treat Pakistanis with dual nationalities including Dr Afia Saddiqi as bona fide Pakistani.
Dr Muhammad Tahir-ul-Qadri said that the world had become global village and the countries were encouraging the policy of dual nationality. He said that being a dual national was considered as a crime despite manifest and express permission by the Constitution of Pakistan.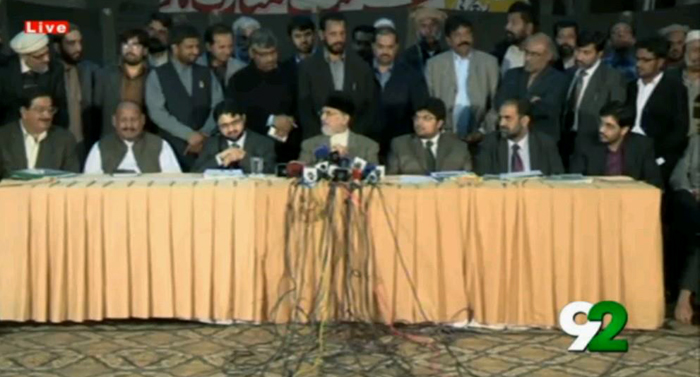 In reply to a question, Dr Tahir-ul-Qadri said that the purpose of having a Canadian passport was to get facilitation during travel in the world for propagation and promotion of Islam. He said that he was not going to renounce his dual nationality in reaction to the judicial observation.
Dr Tahir-ul-Qadri said that United Nations Organization conferred a consultative status on Minhaj-ul-Quran International, which was the acknowledgement of the contributions and services of MQI in the domains of peace, dialogue and interfaith harmony by the United Nations.
In reply to another question, Dr Tahir-ul-Qadri said that revolution marches starting from Feb 15 in Gujranwala would be held as per schedule and they were not any kind of movement against judiciary.