Revolution March Multan: Dr Qadri announces ten-point national agenda
Dr Tahir-ul-Qadri vows to change political system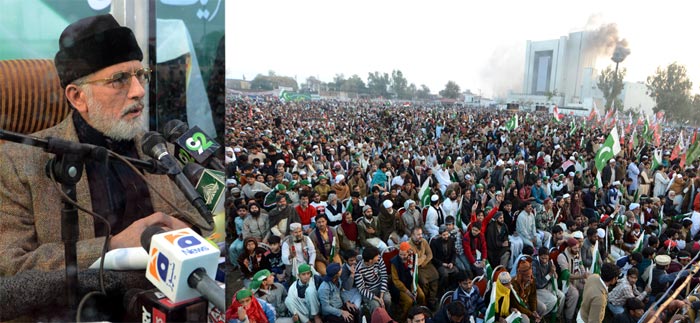 The movement for change, which started with a bang on December 23, 2012, reached Multan on February 22, 2013 as the people of the ancient city and adjoining areas created history by giving a resounding welcome to Dr Muhammad Tahir-ul-Qadri. Severe weather conditions including rain could not weaken the resolve of the marchers who stood their ground and listened to the keynote address of their leader with rapt attention. A large number of women and children also attended the march and the mammoth public meeting held in the Sports ground.
Earlier, Dr Tahir-ul-Qadri led the march. The people of the city threw rose petals and chanted slogans in favour of change in the system. The march concluded in the form of a gigantic public meeting where Dr Tahir-ul-Qadri delivered his keynote speech.
Addressing the participants, Dr Tahir-ul-Qadri said that the raging ocean of people in Multan was proof of the fact, if any proof was needed, that the people of Pakistan were aware of their rights and had stood up to get them. He said that no power of the world could block or hinder their struggle. He said that no political party of Pakistan could hold a public meeting in rain, adding that it was PAT, which challenged the repressive and unresponsive system and whose workers demonstrated their commitment to ideology of change. He said that the people faced harsh and rainy weather in Islamabad Long March and the repeat of the same was now underway in Multan.
Dr Tahir-ul-Qadri said that Muhammad Ali Jinnah launched his struggle for attainment of a separate homeland for the Muslims of sub-continent and the people honoured him with the title of Quaid-e-Azam due to accomplishment of his objective. He said that it was unfortunate that the landlords, industrialists and the vested interests had kept the country under their occupation for last 65 years, which had rendered the country hollow. He said that when Quaid-e-Azam was waging a struggle for Pakistan, the forces of status quo stood against him and opposed him tooth and nail, adding that he was even called 'Kafir-e-Azam' by the protégés of the then establishment. He said that the opponents went to the extent of branding the great Quaid as 'agent of the British imperialism'.
Dr Tahir-ul-Qadri said that the struggle launched by Quaid-e-Azam was still under way because his mission and dream was no different from that of the Quaid and Allama Iqbal. He said that wealth, luxuries, resources and power were under the exclusive control of the moneyed classes and the common people including labourers and workers were deprived of even the basic necessities of life. These people, who are the real owners of this country, were incarnation of deprivation and helplessness. He said that he dreamed of Pakistan which should become a developed country in the comity of nations, where people had respect, honour, security of life, and lived in peace. He said that he wanted a country whose men were determined in their resolve, whose women were epitome of respect and honour and whose youth saw a bright future for themselves in their country.
Dr Tahir-ul-Qadri said that the time was not far away when the roots of the repressive system would be cut down. He asked people to keep moving on, adding that a combination of power and money had bought everything including Parliament. He said that capital could buy everything but it should be kept in mind that the poor's conscience was not purchasable. He said that his struggle had unmasked the so-called players since December 23. He said that it was now on people to differentiate between forces of truth and falsehood.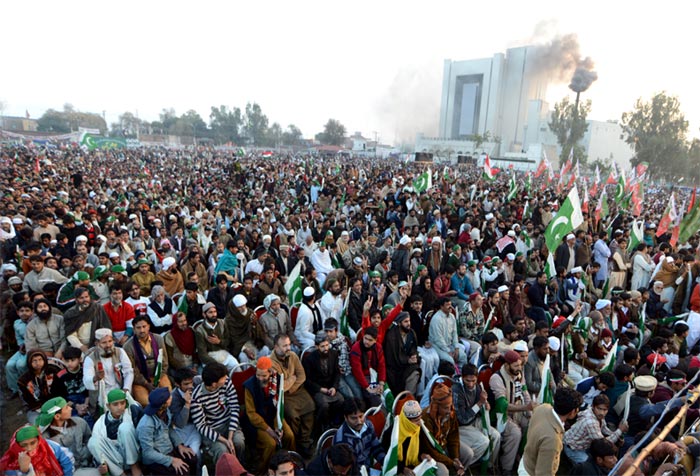 Dr Tahir-ul-Qadri said that he ended his sit-in through an agreement in line with the spirit of Constitution and democracy so that democratic system could not be wrapped up. He said that we held the historic event peacefully. The people braved worst weather conditions under the open skies. He said that not even a single leaf was plucked nor a glass was broken. He said that there was no parallel of such a mega peaceful event in Pakistan.
Dr Qadri said that when we knocked on the doors of law, we came to know that what was outside did not correspond to what was inside. He said that he did not bother if his intention was doubted adding that history of Prophets proved that the opponents doubted the intentions of Hazrat Noah (RA). He said that he who talked of rights of the people was branded as foreigner, bemoaning that those were given certificate of bona fide nationals who plundered national resources and laundered their wealth abroad.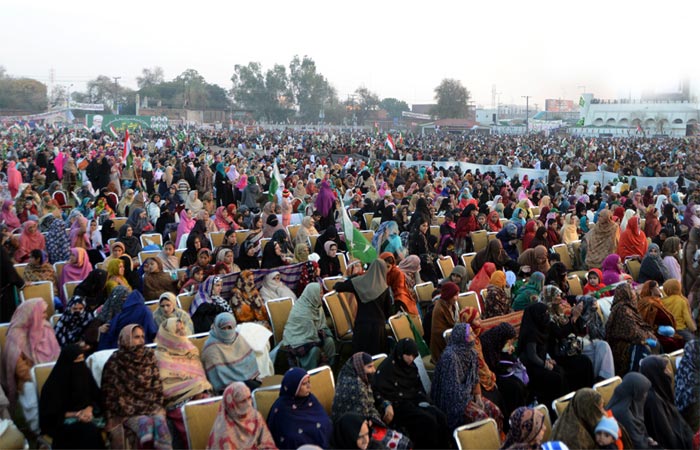 Addressing the people, Dr Tahir-ul-Qadri said that he wanted to tell them that he was not alone in his struggle. The youth, daughters, mothers, poor, peasants, workers and the sisters of Pakistan stood by him. He said that he was fighting a war for restoration of rights of the poor who were robbed of everything they had. He said that the ruling elite was the custodian of democracy and had monopoly on resources and decision making. They did not give people anything except starvation, poverty, suicide, deprivation and disappointment.
He stated categorically that he did not accept the Election Commission as it was not constituted as per provisions of the Constitution. He said that the Election Commission was now talking of implementation of Articles 62 and 63, adding that when he raised his voice for electoral reforms and implementation of these provisions, he was accused of conspiring to delay the elections.
Dr Tahir-ul-Qadri said that the honourable Supreme Court, which never talked of implementation of Articles 62 and 63 in the country, was now talking of compliance with Article 218. He asked as to what the apex court was doing earlier on.
He further said that while the system protected the interests of the feudal lords, it crushed the poor farmers. He said that division of canal water was unequal and unjust. He said that agricultural inputs were either short or being sold on exorbitant prices. He said that agricultural market was not developed while the poor were shackled in poverty, police and court cases which lingered on for decades on end, sapping their time and energy.
Dr Tahir-ul-Qadri said that desperation had penetrated so deep in the society that the people were unsure of change. He said that the state of Pakistan needed to be reconstructed and rebuilt. He said that the political system would have to be reformed in order to put an end to the forces of terrorism and extremism. He said that change of educational and economic system was equally important to give people a stake in the polity. He said that the country needed broad-based changes and fundamental reforms.
Speaking on the occasion, PAT President Dr Raheeq Abbasi said that it was the largest public gathering of Multan's history in the sports ground. He said that the people had got together under the leadership of Dr Tahir-ul-Qadri. He said that revolution was our destination and no power of the world could stop us from marching on through peaceful and democratic means. He said that Multan's meeting was the third public meeting of first phase of revolution marches and Rawalpindi would be the next venue of yet another mammoth public meeting. He said that Dr Tahir-ul-Qadri would make a big announcement in that public meeting in Liaqat Bagh on February 17. He said that all patriotic people looked up to Dr Tahir-ul-Qadri for leadership in these dark times.