Dr Tahir-ul-Qadri asks ECP not to buckle under pressure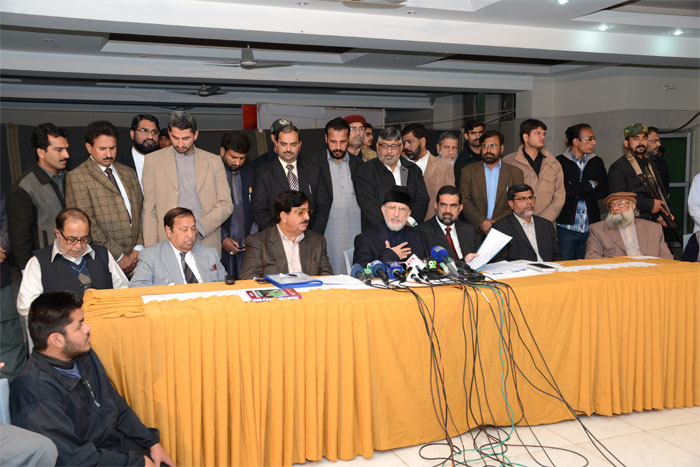 Dr Muhammad Tahir-ul-Qadri, the leader of Pakistan Awami Tehreek, has said that we are observing the actions of the Election Commission very closely and will support all such steps of the Commission, which result in holding fair, free and transparent elections. He said that this was despite the fact that PAT entertained reservations on the composition and legal status of the Commission, which were not clarified yet.
Dr Muhammad Tahir-ul-Qadri that the ECP had incorporated electoral reforms demanded by PAT, June 8 judgment of the Supreme Court and 30-day scrutiny period in the proposed amendment bill, which it moved to the federal government for legislation. He asked the Commission to hold its ground on its stand, adding that PAT would continue to support it and provide human resource if need arose.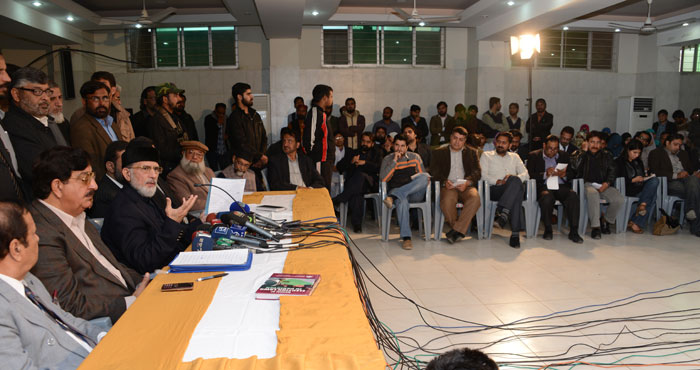 Dr Muhammad Tahir-ul-Qadri made these remarks while addressing a crowded press conference in PAT's secretariat on February 26. PAT President Dr Raheeq Abbasi, Khurram Nawaz Gundapur, Bashrat Jaspal, Qazi Faiz-ul-Islam, Jawad Hamid and Sajid Mahmood were also present on the occasion.
Dr Muhammad Tahir-ul-Qadri asked the Election Commission to take all steps which it deemed necessary to hold fair, free and transparent elections. He said that it should not kowtow to the pressure of political parties and vested interests, adding that the war of fair, free and impartial elections would now be fought between the Commission and those who established it. He said that if the Commission backtracked from its principled position under pressure, its impartiality and independence would become doubtful.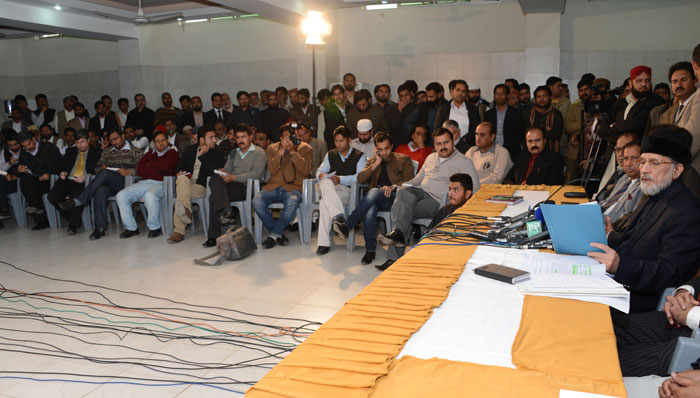 Dr Muhammad Tahir-ul-Qadri said that it was within the mandate of the Election Commission to seek details of assets of legislators and get them published in newspapers so that the people and media could know the reality. He asked the Election Commission not to become a party in concealing the corruption of politicians and rather be courageous enough to take all necessary measures for fair and free polls in the country.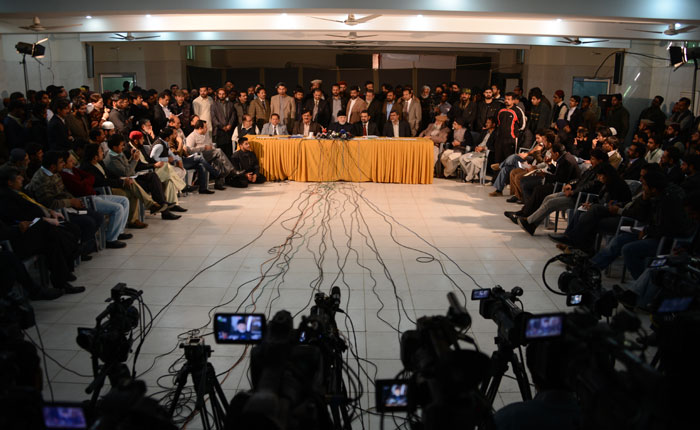 Dr Muhammad Tahir-ul-Qadri said that the Governor of State Bank should be given the responsibility of checking and making public the details of those who got loans from banks and got them written off. He said that the fraud of those who got the loans rescheduled should also be exposed before the people. In reply to another question, Dr Qadri said that the Commission should also summon all such people who got loans of Rs. 2 million and failed to return it within a year. He said that all such loan defaulters were declared ineligible under clause O of Article 63. He said that lists of NAB and NADRA could help accelerate the process of investigation.
Dr Muhammad Tahir-ul-Qadri said that if the process of duress and rigging was not stopped in the elections, it would lead to disastrous results in the country. He said that the ECP's withdrawal from its demand of degree verification was regrettable. He said that it was the first blot on the impartiality of the ECP.
Dr Muhammad Tahir-ul-Qadri further demanded that record should be sought from the Federal Board of Revenue and those who failed to pay their taxes should be declared disqualified irrespective of whether they were sitting members of Parliament. He said that tax evaders fell under the jurisdiction of Article 62 and 63.
Dr Muhammad Tahir-ul-Qadri said that the Executive Council of Pakistan Awami Tehreek had voted in favour of taking part in elections after electoral reforms were implemented. He said that we would take part in elections which were devoid of corrupt practices and abuse of resources. He said that detailed survey was conducted across the four provinces and 300 cities in the country in which opinions of over two lacs people were solicited. He said that PAT's Federal Council would meet on March 13 and the decisions taken in that meeting would be announced on March 17 in historic public meeting in Rawalpindi.
In reply to another question, the leader of PAT said that he would leave for Canada on the 27th of February for medical check up and return to Pakistan on March 11. He said that the announcement whether to take part in electoral politics would be made on March 17 but PAT had established a parliamentary board in the light of applications received from various candidates. He said that the board would be headed by Dr Raheeq Abbasi, PAT President and would comprise Muhammad Hanif, Chief Coordinator PAT, Khurram Nawaz Gundapur, Chaudhry Muhammad Sharif, Bashrat Jaspal, Amjad Shah Durrani, Jawad Hamid, Fayyaz Warriach, Brig.(r ) Iqbal Ahmad Khan, Jamsheed Anwer, Rana Fayyaz, Sheikh Zahid Fayyaz, Raja Jamil Ajmal and Ch Bashir Ahmad. The board would scrutinize the candidatures of those aspiring to contest elections from PAT's platform.
Dr Muhammad Tahir-ul-Qadri also announced the formation of a committee mandated with the task of revising party's manifesto. The committee would be headed by Akram Zaki, former Secretary General of Foreign Office, while Khurram Nawaz Gundapur would be its secretary. Other members include Brig (r ) Muhammad Ali, Kunwar Dilshad, Dr Ehsan Mahmood, Dr Naeem Mushtaq, Zahid Bokhari, Ishtiaq Chaudhry Advocate, Syed Iftikhar Bokhari, Syed Mansoor Ahmad Khan, Bashrat Aziz Jaspal, Sami-us-Zafar Noshahi, Ch Rashid Ahmd Advoate and Chaudhry Sharif.
Part 1
Part 2
Part 3