PAT (Rahim Yar Khan chapter) takes out protest rally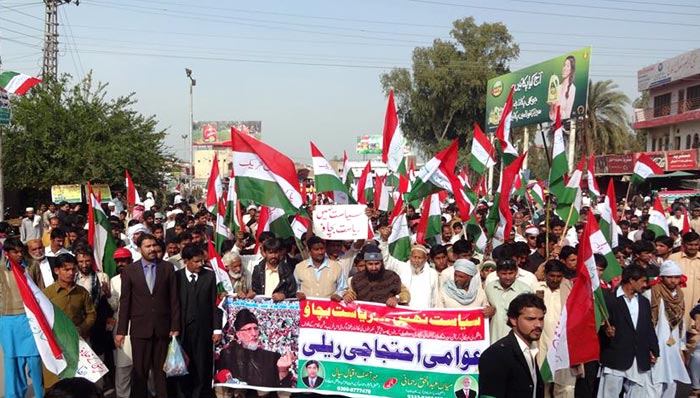 Pakistan Awami Tehreek (Rahim Yar Khan chapter) took out a rally to protest skyrocketing inflation, terrorism, corruption, and illegal privatization on March 02. The rally started from Khanpur bus stop and concluded at Railway chowk. Sheikh Zahid Fayyaz, central President of Pakistan Awami Tehreek, presided over the demonstration, whereas Vice President MSM Razi Tahir, Divisional Coordinator Allama Fayyaz Bashir Qadri, provincial vice President PAT Dr Ilyas, zonal Secretary General Tahir Faridi, District President PAT Abdul Haq Rehmani, District Coordinator PAT Ghulam Moinuddin, Tahira Aslam, Noreen Mustafa and other leaders were the among the leading participants of the rally. The hundreds of women and men attended the protest demonstration and recorded their anger for and disapproval of the government's policies.
Addressing the participants of the protest rally, PAT central President Sheikh Zahid Fayyaz said that the first seven months of the so-called democratic government had been very heavy for the people. He said that ratio of foreign loans, price hike, terrorism and unemployment registered a noticeable surge during this period. He said that the present rulers neither had any strategy nor vision to rid the nation of contemporary problems. He said that the present political arrangement, which came into power on the basis of rigging, and electoral manipulation, was responsible for the predicaments in which the country was stuck. He said that the national resources were being squandered and no one bothered.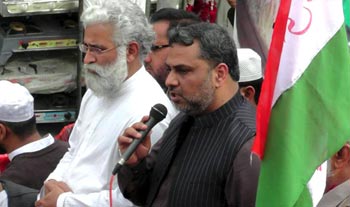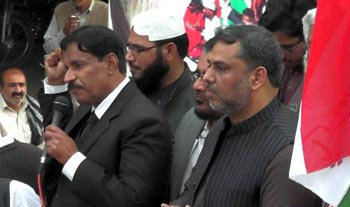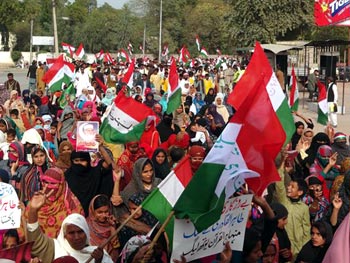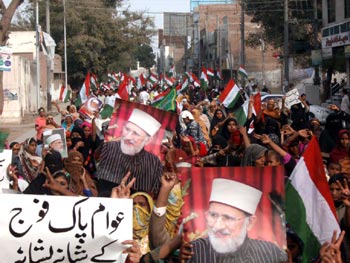 PAT President strongly criticized the government's privatization policy, saying that the state-owned entities were being sold mercilessly for peanuts. He said that those selling and purchasing these enterprises were one and the same thing. He said that the façade of talks with the Taliban was put up to distract people's attention from the issue of privatization. He said that the government's policy vis-à-vis Taliban had sown seeds of doubts and confusion among the minds of the people. He said that talks with the murderers were both silly and insane as it led to destruction and blind alley.
Sheikh Zahid Fayyaz said that PAT leadership and workers stood by the armed forces of Pakistan and supported the military operation against terrorists. He said that if the nation was to come of these multiple challenges, peaceful and democratic change was the only option available. He said that 'namaz' of ten million people would be led soon and preparations were going on in full swing. He said that PAT's message was winning national acceptance and acclaim and people from every nook and corner of the country were joining the folds of PAT. He said that time was not far when a flood of 10 million people would be on the roads to launch a peaceful and democratic struggle for their rights.
MSM leader Razi Tahir said while addressing the rally that youths' future could not be changed through catchy slogans alone. He said that situation had come to such a pass that educated youths with highest degrees were compelled to commit suicides, adding that those whose responsibility was to guide the youth were busy in their political gimmickry. He said that the student and youth community had their sight on Dr Tahir-ul-Qadri and they were waiting for his call to bring about a peaceful and democratic change in the system. He said that the voice of Dr Tahir-ul-Qadri had become the voice of every segment of society. He said that the people were working zealously for elimination of class-based educational system and archaic traditions which had held up our national progress.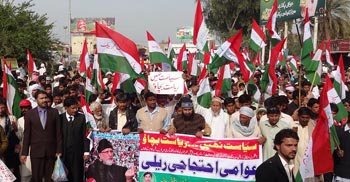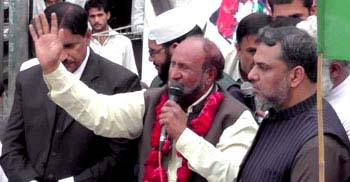 Allama Fayyaz Bashir Qadri said that solution to myriad of problems we were confronted with as a nation lay in the Islamic system. He said that unless our political preferences reflected our national interests, we would not able to get rid of lawlessness. Dr Ilyas said that it was the leadership of Dr Qadri alone that could steer the country out of crises.
Representing women, Minhaj Women League office holder Noreen Mustafa said that the women were aware of their role to bring about peaceful and democratic change in the country. She said that presence of a large number of women in the programme at Rahim Yar Khan was proof of the fact that women were capable of playing their due role at every level for positive change in the society. She said that our struggle would continue till elimination of the women's exploitation.