Dr Tahir-ul-Qadri's vision for prosperous Pakistan
---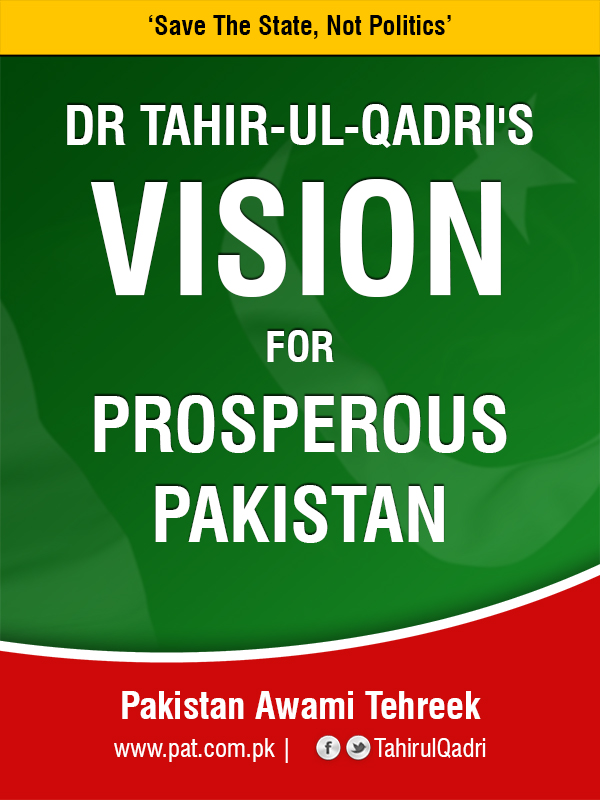 Shaykh-ul-Islam Dr Muhammad Tahir-ul-Qadri launched the movement for promotion of awareness in Pakistan at a time when he founded Minhaj-ul-Quran International 32 years ago. However, this movement of public awareness was restructured and reorganized about eight years ago. The historic reception accorded to Dr Qadri at the Minar-e-Pakistan on December 23, 2012 under the slogan of 'let us save the state, not politics,' was a link in the same chain. Later on, five-day long Islamabad Long March and sit-in organized in January 2013 is a glorious chapter in the annals of Pakistan's history. Pakistan Awami Tehreek (PAT) organized a number of public meetings in different cities of the country with a view of sensitizing the people about the deteriorating state of affairs and incumbent electoral system that is based on plunder of state resources, corruption, rigging, dishonesty, injustice and denial of rights to the poor.
Shaykh-ul-Islam Dr Muhammad Tahir-ul-Qadri unveiled his revolutionary vision for Pakistan's prosperous, sovereign and bright future at a public meeting in historic Liaqat Bagh on March 17, 2013. If the people of Pakistan are truly desirous of turnaround, seek an end to scourges of load-shedding, terrorism, unemployment, backwardness and price hike and are eager to carve out a distinguished and respectable place for the country in the comity of nations, they would have to implement the vision of Dr Tahir-ul-Qadri both in letter and spirit. The question naturally arising here relates to the vision of Dr Qadri and what it specifically spells out to bring about change. While the detailed contents of the vision will be published elsewhere, however, its broad contours are being shared in the form of this booklet for the general readers.
I would take this opportunity to request the opinion makers, intellectuals and scholars who desire real change in the country to convey this dynamic vision to all and sundry so that the dream of not merely change but real change at that could be fulfilled in the country.
Dr Raheeq Abbasi
Rationale of Pakistan's establishment
Pakistan came into being as a result of a sustained struggle under the dynamic leadership of the Quaid-e-Azam and matchless sacrifices of the Muslims. The great Quaid translated Allama Iqbal's dream of a separate homeland for the Muslims by founding an independent and sovereign state. The founding fathers envisaged Pakistan to be a modern, democratic, and moderate Islamic state. They wanted newly created state to adhere to socio-economic justice, ensure human freedoms and fulfillment of rights, uphold rule of law, and supremacy of the Constitution. They wanted a state where the powers that be accountable to people, where armed forces are guarantor of peace, and protector of her territorial integrity and independence; where independent and free judiciary exercise complete impartiality and deliver cheap and immediate justice; where bureaucracy serves people; and where police and administration protect life, honour and property of people. In short, the country was envisaged to adhere to these ideals as a stable, welfare, moderate Islamic state. What is happening now and where do we stand today compared to these ideals enumerated above?
Are we a nation today?
The Muslims were one nation in the sub-continent at the time of establishment of Pakistan and the nation looked for a state, whereas today after the passage of 67 years we have a country, which is in search of a nation. We were a nation in 1947. Thanks to God's help and a shared struggle of the Muslims, we finally succeeded in getting a separate homeland despite combined opposition of the ruling British and the Hindus. Hardly had 25 years passed since the inception of Pakistan that we lost half of the country due to internal differences and today the remaining half country is gripped by security fears. Today, our nation had splintered into small factions and groups and became a listless crowd of millions of people. The passion of love which knitted the disparate people together in the body politic of one nation has disappeared. Linguistic, regional, religious, sectarian and ethnic biases and divisions have hit hard at the concept of our nationhood.
Can present system guarantee development?
The present electoral system has been designed to induct the privileged elite and selected powerful families of this country into corridors of power. People's welfare and fulfillment of their rights does not figure anywhere on the agenda of the powerful elite. This explains why this system 'gifted' people with corruption, fraud, injustice, ignorance, bloodshed, plunder of resources, and degradation and the dream of a real change could not be fulfilled. Justice is slave of the privileged elite. Democracy is their luxury. Election is their very profitable business. What is being done in the name of democracy in this country is no democracy. Rather it is political authoritarianism. Neither is this electoral system real nor can it be instrumental in bringing about real change. It is a matter of great concern that a comprehensive planning has been carried out to hand over the reins of power to the same corrupt breed of politicians through next elections.
The country needs who?
If you dedicate a few minutes from your busy time and think over the present state of affairs currently obtaining in the country, you would certainly be led to conclude that the change of the system is not only essential but also inevitable on the revolutionary lines. Being a son of the soil, we should consider the fact that we do not merely need a leadership to steer us out of multiple crises. Rather we need competent, capable and credible leadership that has a revolutionary vision, and an unwavering commitment to deliver. We need a leadership that has the passion to put Pakistan on the trajectory of socio-economic development and carve out a respectable place in the comity of nations. We need a leadership that is driven by the determination to serve people at the grass-roots and possesses insight into the international issues and is capable of representing Pakistan at every platform in the world.
Let us now consider as to how Shaykh-ul-Islam Dr Muhammad Tahir-ul-Qadri, the only leadership measuring up to these standards, wants to see Pakistan.
What kind of Pakistan does Dr Tahir-ul-Qadri want?
Dear countrymen! Shaykh-ul-Islam Dr Muhammad Tahir-ul-Qadri has given a revolutionary vision of a real change in the present anti-poor system. He wants such a Pakistan, which represents realization of Allama Iqbal's dreams and fulfillment of the Qaid-e-Azam's ideas and which is welfare, democratic, Islamic state in the real sense.
Shaykh-ul-Islam Dr Tahir-ul-Qadri wants such a Pakistan in which:
Possession of agricultural land is limitized
1- The maximum upper limit of possession of an agricultural land for a family should not be more than 50 acres. It will help eliminate feudalism from the country.
Farmer is owner of land
2- Landless farmers get free land so that the hard-working peasant who feeds the nation through his toil and perspiration should not continue to remain peasant. Rather he ends up owning land.
Youth get employment/unemployment allowance
3- Every youth gets either employment or unemployment allowance of Rs. 10,000 per month till he finds a job. The goal of national development can only be achieved when the youth are included in the mainstream and encouraged to take part in national development.
The homeless get free plots
4- Every homeless family should have a free five-marla plot and access to easy loans for construction of their house.
Workers have share in the profits of factories/mills
5- Exploitative capitalism should be sent packed once and for all and all workers/labourers are shareholders in the profits of the factories and mills so that those working hard for national development should also be able to benefit from fruits of development.
National anti-terror policy should be formulated
6- Terrorists should be brought to justice through formulation of holistic national anti-terror policy so that Pakistan should become hub of peace and be able to carve out a niche for itself in the comity of nations.
Cheap and prompt justice is available
7- Every citizen has access to inexpensive and prompt justice at the local level such as Tehsili and district courts. The judges should be non-political and their number should be increased.
8- SHO should belong to the same area where he is posted and his posting is duly approved by the Union Council.
Compulsory education up to matriculation should be free
9- Education up to matriculate level should be declared compulsory and free under uniform syllabi and every eligible student should have ample opportunities of higher learning.
10- Educational degrees issued by the Higher Education Commission should be equivalent to the degrees of the universities in Canada, UK and USA.
Free and uniform health system should be designed
11- All citizens should have access to free and uniform health opportunities.
12- Palatial buildings such as Presidency, PM House, Governor Houses and Chief Ministers Houses should be converted into universities, hospitals and libraries.
Women have equal opportunities
13- Women should have equal opportunities and complete socio-economic security and all anti-women laws should be done away with.
The rich, not poor should be taxed
14- The ratio of taxes should be higher for the rich and the same should be rationalized for the middle classes while the poor should be exempted from both direct and indirect taxes of any kind.
Utility bills should be tax free
15- All utilities bills of the poor such as electricity, water, gas and phone should be exempted from taxation.
Discrimination in pay structure should be eliminated
16- Unjust discrimination in the pay structure of various categories of the employees both in public and private sectors irrespective of their grades should be done away with.
Discretionary powers of the elected representatives should be disbanded
17- The enormous discretionary powers and perks and privileges of the President, Prime Minister, Governors, and Chief Ministers should be eliminated.
18- The heinous practice of disbursement of public money to MNAs and MPAs in the name of development funds should be discontinued.
What kind of system of governance is required for such a Pakistan?
Dr Muhammad Tahir-ul-Qadri firmly believes that Pakistan can never be made democratic, welfare, Islamic state in the real sense within the confines of the present system. In order to achieve the above-mentioned objectives, revolutionary changes need to be brought about in the system of the country. The broad contours of revolutionary agenda proposed by Dr Tahir-ul-Qadri are given here below:
The State of Madina should be our role model
1- Pakistan inherited its system of governance from the English which they designed in 1850. The powers remain concentrated in a few hands under the present system. We want to put in place such a system whose model was presented by none other than the Holy Prophet (peace be upon him). Madina is our role model for Pakistan. When the Prophet (SAW) migrated to Madina and founded the city-state there, he implemented the concept of participatory democracy and devolved powers at the grassroots. A unit of every ten people had their head called 'naqeeb', and the head of ten 'naqeebs' was called 'Ureef'. Then he established the Parliament consisted of hundreds 'Urafa' and the Prophet (SAW) devolved all powers to the grass-roots. A common man had direct access to the rulers and latter had direct contact with the former. The people's problems were resolved there and then in this manner. Therefore, in order to resolve the complex governance issues, we need to formulate a similar model of governance like the one which was in vogue in the city-state of Madina.
The Prime Minister should be directly elected
2- The present system of electing the Prime Minister through the votes of MNAs in the National Assembly should be done away with. Rather, the Prime Minister should be elected directly in the general elections with the mandate of the people so that he is not the leader of the house. Rather he is the leader of the nation.
The Minister should be appointed on merit
3- The ministers should be chosen on the basis of merit. The incumbent practice of employing favourtism, personal likes and dislike and distribution of ministerial slots among the coalition partners should be discontinued as it was against the very principles of professionalism, meritocracy and fair play. The minister should be selected through a parliamentary committee constituted for the purpose, which should give its recommendations after thoroughly investigating the track record of candidates and interviewing them. Only competent and capable people should be chosen as ministers. A minister should have requisite knowledge and understanding of the department/ministry he/she gets chosen for. In this way, he/she will be able to put an end to domineering influence of powerful bureaucracy.
Positive changes should be brought about in electoral system
4- Elections should be held according to proportional representation system in which the candidates get elected on the basis of lists approved by the political parties so that people are not condemned to continuing with the practice of having to vote for the winning horses on the basis of clan, and other affiliations. Rather, they vote the political parties on the basis of their manifestos, proposed policies and trust in leadership.
New provinces to be carved out on administrative basis
5- Every division should be given the status of a province on the administrative imperatives instead of making new provinces on the basis of linguistic and ethnic lines. All expenditures being incurred on maintenance of huge establishments and departments should be done away with so that public money could be spent on welfare projects.
6- The people of each province should elect their governor through direct voting. There should be no cabinets at the provincial level. The present administrative heads/secretaries should directly report to their respective governor and work under his command and leadership.
All powers to be devolved at the grass-roots
7- All powers should be devolved. The federal government should have exclusive mandate over the key departments such as currency, defence, foreign affairs, higher education, counter-terrorism and in-land security, whereas the remaining of all ministries/departments should be devolved to the provinces and districts.
8- Local government elections should be held and they should be equipped with administrative, fiscal and political autonomy.
9- Every district government should be headed by a Mayor who is directly elected to his office by the people. All district departments such as administration and police and others should report to him.
10- Every Tehsil government should be led by a deputy mayor who should also be elected through direct voting and all tehsil level departments should report to him.
11- Governors, Mayors and deputy Mayors should be deemed to have been duly elected if they manage to garner 51% of cast votes.
12- The formation of Tehsil government should be followed by the establishment of local government at union council level. Its top political offices such as Nazim, deputy Nazim and councilors should be directly elected by the people and representative of every segment of society should be included in the union council. All development activities in the area should be carried out by the union council so that people's problems get resolved at their door-step.
Role of armed forces
13- The armed forces of Pakistan should have no role in the internal politics of the country. Their job should be limited to protection of territorial and ideological frontiers of the country. The armed forces should be available to extend helping hand to the local governments during peace times in such tasks as restoration of law and order, development activities, civil defence and emergency relief.
Stringent accountability system
14- A permanent and transparent system should be put in place for accountability of the corrupt and retrieval of the looted money.
15- Civil Vigilance Squads consisting of representatives of civil society organizations and local notables should be constituted to keep an eye on the working of local government and check its misuse of power. It should also communicate all complaints about abuse of powers and corruption to the institution of accountability at the higher level.
16- Accountability Bureau should be completely independent and sovereign having constitutional protection. The Bureau should consist of neutral, honest and conscientious people having its offices at national, provincial and Tehsili levels. The local branch of accountability bureau should hold union council accountable, while the district, provincial and federal governments should be held accountable for their actions at district, provincial and federal chapters of the accountability bureau.
17- The decisions and administrative actions of one chapter of accountability bureau should be appealed against at the higher level. Thus the process of accountability should continue at every level and the wrong doing politicians and government officials are proceeded against promptly.
But …….. Remember
All of this is not possible to achieve as long as current electoral system does not undergo changes and reforms and the legislatures do not have real public representations.
If you are desirous of real change in the country and share Shaykh-ul-Islam Dr Muhammad Tahir-ul-Qadri's vision of prosperous and developed Pakistan, there is only way to achieve this goal. That is to completely and thoroughly reject electoral system because this system is Raza Shah Pehlvi of Pakistan against which the Irani nation stood up. This system of elections is Col. Qaddafi of this country against which the people of Libya raised the banner of freedom. Let us stand up against this system in such a manner as the people of Egypt and Tunisia did and brought down the decades-old political dictatorships.
Shaykh-ul-Islam Dr Muhammad Tahir-ul-Qadri has launched decisive struggle against the same obsolete and exploitative system. It was in the background of 32-year old struggle that a grand and mammoth public meeting was held at Minar-e-Pakistan on December 23 and the Islamabad Long March was carried out in January 2013. It was in this connection that the countrywide peaceful sit-ins were arranged on the polling day on 11th of May 2013 so that the voice could be raised for people's rights. Pakistan Awami Tehreek has rejected the current corrupt system and is waging sustained struggle which would continue till the elimination of this oppressive system.
If you want real change in the country, then you would have to play your role to reject the electoral and political system which allows only the tax evaders, looters, fake degree holders, feudals, industrialists and anti-people elements to win the election.
Come and join our peaceful, organized and democratic struggle against this oppressive system.
Pakistan Awami Tehreek
365 M, Model Town Lahore
Ph: 0092.42.111.140.140
Email: info@pat.com.pk
Website: www.pat.com.pk