Dr Tahir-ul-Qadri presents 14-point anti-terrorism plan
PAT chief urged the establishment of the army courts in the country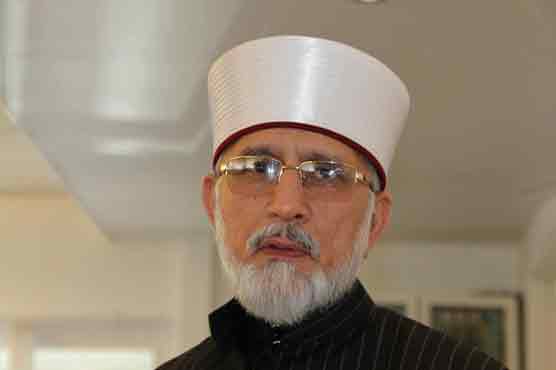 LAHORE: Pakistan Awami Tehreek (PAT) chief Dr Tahir-ul-Qadri on Saturday has presented a 14-point plan to counter terrorism saying that the punishment for giving a sympathizing statement about terrorists must be life-time imprisonment.
Dr Qadri expressed these views through a video conference from the United States of America (USA) where he is under-treatment for heart ailment.
PAT chief urged the establishment of the army courts in the country while stressing ban on foreign funding.
He said that terrorists and the people who fund them are Pakistan's problem number one in the priority list.
PAT chief urged the declaration of this war as Pakistan's war against terrorism in the Parliament for the elimination of this evil by putting an end to terrorist groups and their supporters.
Lawmaking must be done to end terrorism in the country, he urged.
Dr Qadri also urged reviewing of the syllabus of madrassas (religious institutes) adding that all the anti-terrorism organistaions should be made sub-ordinates of the Pakistan Army.
He urged an increase in the budget of the Pakistan Army that is countering terrorism in several areas of the country.
The acts of banned outfits must practically be contained and later put an end to, he added.
PAT chief further announced holding of a country-wide rally against terrorism on December 21.
Source: http://dunyanews.tv