Qadri proposes military courts for terror cases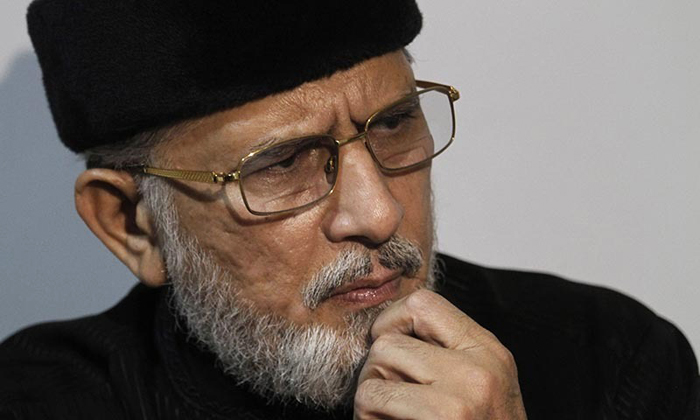 LAHORE: Pakistan Awami Tehreek chief Dr Tahirul Qadri says 1,100 released terrorists caused bloodshed in Pakistan after reuniting with their accomplices, suggesting terrorism cases be decided by military courts within 15 days.
"I just ask who is actually responsible for bloodshed in Pakistan caused by as many as 1,100 terrorists who were released in the past and restarted their terrorism activities," Mr Qadri said while responding to media queries through a video-link from a hospital of Huston (United States) where he is admitted these days for medical treatment.
He also expressed dissatisfaction over hanging only two convicted terrorists during the past 12 years or so despite the provision in the Constitution and law of Pakistan for immediate execution of such high-profile criminals.
The PAT chief told reporters that the nation must be informed of the arrested terrorists and their facilitators supplying them material such as suicide jackets, explosives, money and other logistics etc.
He said when even Western world didn't care for any constitution and law when their peoples' safety was at stake, why Pakistan's rulers act cowardly when it came to punishing terrorists under the law?
"You can see how prompt the government has become now, as they are executing terrorists rapidly even without considering the jail manuals. It shows if the intention is good for doing anything seriously, there will be no problem," he added.
He proposed a 14-point plan for elimination of terrorism, stating war on terror must be announced against terrorism.
"The parliament will have to own this war and a joint resolution must be passed by it against terrorism. New law must be framed under which those supporting terrorists should be considered partners in crime and life term should be handed down to such elements. To finalise the terrorism cases, special military courts should be set up that should hold the hearing and give a decision within 15 days, including a week's duration for appeal," he said.
He said reforms should also be introduced in madressah system, including a unified syllabus throughout the country. A ban should be imposed on the foreign funding of seminaries, parties, organisations and individuals, he added.
He also suggested establishment of 'Peace Education Centers' which should educate and create awareness among the public on measures to eliminate religious extremism and how to stay away from extremists who used common people for their own nefarious and evil designs.
He also proposed a ban on hate literature that gave rise to terrorism. "All the departments working for the elimination of terrorism, including courts, forces and secret agencies should be under the direct control of the army. The budget of the army should be increased so that it could fight this 'war on terror' with full force."
Those hit by terrorism should be duly compensated and rehabilitated by the federal government, he added.
Mr Qadri said school and college curricula should inculcate anti-terrorism views among students.
He said in 55 Anti-Terrorism Courts, some 2,025 cases were pending for the last five years, deploring the ATC's were bound to give verdicts in seven days under the law.
He lauded Chief of the Army Staff for "sincerely running around and taking concrete decisions" after the Peshawar school incident, adding the political leadership seemed to be groping in the dark.
Source: http://www.dawn.com