Qadri says govt not capable of dealing with terrorism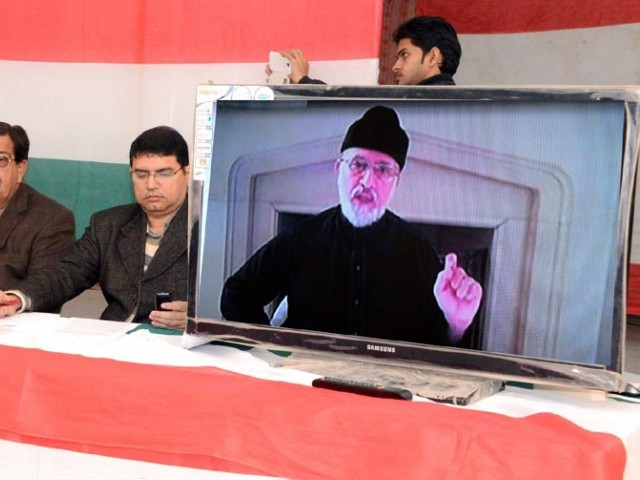 LAHORE: Pakistan Awami Tehreek (PAT) chief Tahir-ul-Qadri on Saturday called for anti-terrorism courts to be abolished. He was speaking to reporters at the party's Model Town secretariat via video-link from Houston. Qadri said the courts should be replaced by military tribunals tasked with hearing terrorism cases and convicting suspects. He said all civilian departments, institutions and authorities involved in counterterrorism should be brought under the army's control. Qadri said the government was incapable of dealing with terrorism.
The PAT chief presented a 14-point anti-terrorism agenda. He said the military courts should decide cases in seven days. He said another seven days should be provided for appeals. He said a joint session of the parliament should be immediately called and legislation to check terrorism should be introduced. Qadri said a unanimous resolution declaring the war on terror a national war must be passed in the joint session.
Qadri said past governments had not tried sincerely to eradicate terrorism. He said all political parties and extremist outfits should be outlawed. He said foreign funding for political parties should be banned. Qadri said the military should implement this policy as the civilian government had vested interests in this regard.

He said a board of internationally acclaimed religious scholars should be constituted to review the curricula of religious seminaries. Qadri said both religious and secular fanaticism should be eradicated. He said new legislation should be introduced to imprison those who facilitated acts of terrorism for life and treat them on the same footing as terrorists.
Qadri said peace education centers should be established nationwide to raise public awareness regarding measures needed to eradicate terrorism. He said this would ensure that naïve people were not led astray by anti-state elements. Qadri said literature promoting extremism, sectarianism and use of terrorism should be outlawed. He said such material should be set ablaze without further ado. Qadri said the budget for the military should be raised to enable it to effectively wage the war on terror. He said the government should compensate those affected by the war on terrorism and should ensure that they were rehabilitated. Qadri said constitutional rights to education, health, employment and social justice should be protected as terrorism was rooted in deprivation.
He said outlawing extremist outfits was not sufficient. Their offices should be sealed and their assets should be frozen. He said those associated with such organizations should be given exemplary punishments. He said school curricula should include subjects that promote peace and teach students about anti-state elements. He said over 2,000 anti-terrorism cases had been pending in courts.
Source: http://tribune.com.pk