PAT vows to fight all forms of terrorism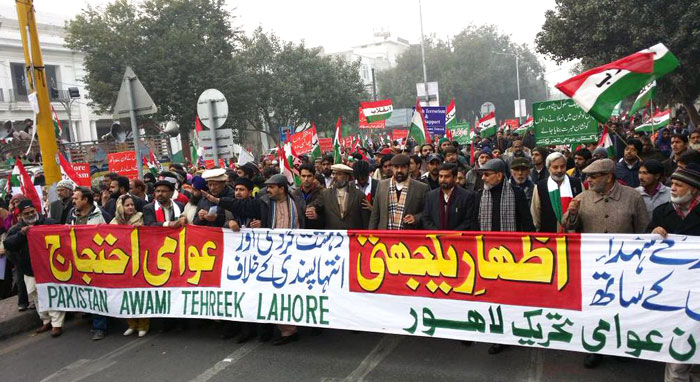 The Pakistan Awami Tehrik (PAT) held a solidarity march started from Masjid-e-Shuhada to Charring Cross in front of the Punjab Assembly here on Sunday and resolved to fight out terrorism in all forms and manifestations to make Pakistan a peaceful and progressive country. Men, women and children came out in large number to condemn terrorism and pay tributes to the martyrs of Army Public School in Peshawar.
Addressing the participants of the march, PAT President Dr Raheeq Abbasi and other speakers said that terrorists, their collaborators and apologists were cowards and could not scare a brave Pakistani nation and expressed solidarity with the armed forces in the ongoing war against terrorism. In his telephonic address from the USA, PAT chief Dr Tahirul Qadri called for evolving a comprehensive strategy for eradication of terrorism. He described terrorists and their patrons as the biggest and topmost problem for the country.
In order to eliminate terrorists and their supporters, Qadri suggested that a joint sitting of parliament should be convened to adopt a consensus resolution to declare war on terror as our own war. He said the government should immediately make the names, background, identity, regional connection and other relevant details of those people who were involved in terrorist activities for last 12 years so that the nation could identify their enemies wearing masks.
He demanded that legislation, free from ambiguity, should immediately be carried out for the elimination of terrorism and the act of co-operating, supporting and facilitating terrorists and giving statements in their favour should be declared a crime. The punishment of those involved in these activities should not be less than life imprisonment.
He suggested that the roots of terrorism lie in sectarianism, extremism and 'Takfeeriyat'. A ban should be placed on issuance of Fatwa declaring others infidels and strict punishment be prescribed for those indulging in such activities. As the nation continues to mourn the killing of innocent schoolchildren and teachers of the Army Public School, Peshawar, the Christians community has decided to celebrate the Christmas with sobriety and simplicity to express solidarity with the bereaved families.
Source: http://www.brecorder.com