Muzaffargarh: Lahore progressing while South Punjab left to drown: Dr Hussain Mohi-ud-Din Qadri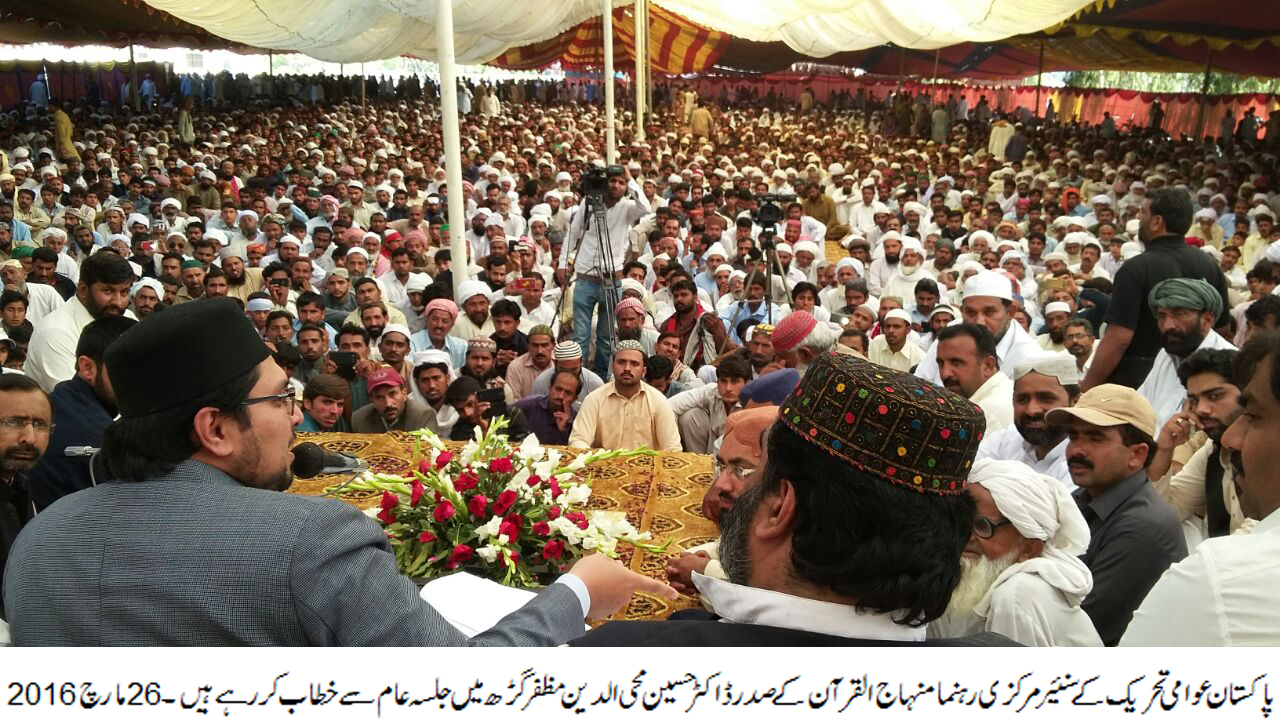 Addressing Workers Convention and Peace Conference in Muzaffargarh, senior PAT leader Dr Hussain Mohi-ud-Din Qadri has said that the budget of 35 districts of Punjab is being spent on decoration and beautification of a few roads in Lahore and the people belonging to South Punjab are left to drown in annual flood that is their fate each time monsoon strikes. He said that a combination of local feudal lords, non-local industrialists and rulers has not meted out good treatment to the land of Shah Shams Tabraiz, Khawaja Ghulam Farid, and Bahauddin Zakria. He said that the rights of the millions of people were bartered for a few ministries, governorship and other positions.
Khawaja Amir Fareed Koreja, Fayyaz Warraich, Sardar Shakir Mazari, Prof Abdul Quddus Durrani, Rao Arif Rizvi, Syed Zafar Khichi, Allama Saeed Farooqi, Raja Zahid Mahmood, Malik Tariq Bhaba, Sardar Asifullah Khan, Dr Saad Baloch, Riaz Alyani, Allah Baksh Makwal, Sardar Mian Jahangir, and Mian Ghualm Rasool Makwal also spoke on the occasion.
Dr Hussain Mohi-ud-Din Qadri said that the people of South Punjab are loyal and have the courage to stand up for truth. He said that the people of this area chronicled a new chapter of bravery in the annals of history by supporting Dr Tahir-ul-Qadri during sit-in and revolution march, adding that Dr Tahir-ul-Qadri and his coming generations will never forget these sacrifices. He said that the present rulers will only be seen in the South Punjab when elections will be around the corner. He said that Kissan package has been wrapped up after the local government elections and in the same way, the people of Lodhran were deprived of the package which was promised by none other than the Prime Minister.
The PAT leader said that it is promise of Dr Tahir-ul-Qadri that if God gave him an opportunity to serve the masses, he would start his journey of development from the Rajanpur and Muzaffargarh districts and no educated person of this area will need to look up to Lahore and Islamabad. He said that we would bring back the looted money and set up industries here and give employment to the people. He said that police stations will become real places for people's support and facilitations. He said that only the workers of the PAT are fighting for rights of the poor and justice for the martyrs of Model Town tragedy, adding that they may be poor but are honorable people. He said that PAT is the party of the poor and its struggle is for their rights only. He said that the political elite of the country gangs up against Dr Tahir-ul-Qadri because they know full well that it is Dr Qadri who is capable of bringing about revolution in the country. He asked the poor not to get disappointed as their days are about to change for the better.
Speaking on the occasion, Khawaja Amir Fareed Koreja said that Bilawal Bhutto and Siraj-ul-Haq also addressed public meetings on the land of South Punjab but the meeting organized by workers of the PAT is the biggest of all, which is proof of the fact that the poor people and farmers of South Punjab have immense love for Dr Qadri despite the fact that he is not in power.
Fayyaz Warriach said in his speech that those who fooled the farmers are their enemies. He said that the day farmers took to streets for their rights, the industrialists will run away.