Nexus between corruption & terrorism be broken: Dr Tahir-ul-Qadri's press conference on Panama Papers

Addressing a heavily crowded press conference through a video link from Canada here at the central secretariat today, PAT Chairman Dr Muhammad Tahir-ul-Qadri has said that the Sharif family is the owner of hundreds of offshore companies. He said that in order to make them cough out money and speak the truth, they should be deposed and put behind the bars. He said that the facts revealed so far by the Panama leaks are sufficient to punish them. He said that no head of the government rejected the papers, which is a sufficient proof for them to be accepted as authentic. He said that black money to the tune of $200 billion parked in the Swiss banks has a strong connection with the offshore companies. He said that had the Parliament, FIA, NAB, and FBR been independent, the action would have been taken by now. He said that Hussain Nawaz bought a property on March 21 at the cost of 42.5 million pounds in One Hyde Park, which was registered on March 30, 2016. He said that this saga of corruption and plunder is spread over 35 years, adding that if the institutions want to act, there are sufficient proofs available but only God will catch them.
Elimination of terrorism, extremism & corruption is not only a theory but also part of our creed as Muslim. #DrQadriUnveiledFacts

— Dr Tahir-ul-Qadri (@TahirulQadri) April 13, 2016
Dr Tahir-ul-Qadri said that the struggle against corruption and terrorism is part of the faith. He said that we would enter into talk with every political party and decisions will be taken accordingly, adding that the doors are open for everyone. He said that the present rulers won the General Elections 2013 with the support of the extremists. They give them money and they do not carry out attack in return. He said that he welcomes the Army Chief's statement about breaking the nexus between corruption and terrorism and prays for his success. He said that the Panama leaks are the biggest financial scandal of the national history. He said that in addition to medical check-up, the Prime Minister will also undergo treatment as well. Directors, shareholders, companies and even countries will be changed so that anyone who wants to probe would not be able to do so. He said that the son of the PM has gone to the holy land where one's destiny is changed with prayers, why would papers not change? He said that when the PM would come back after complete treatment, the tens of boards of doctors would not be able to detect bacteria or disease. He would have a readily available answer to every question of anchor and journalist.
Khurram Nawaz Gandapur, Major (r) Muhammad Saeed, Noorullah Siddiqui, GM Malik, Sajid Bhatti, Sohail Raza, Jawad Hamid and others were present on the occasion.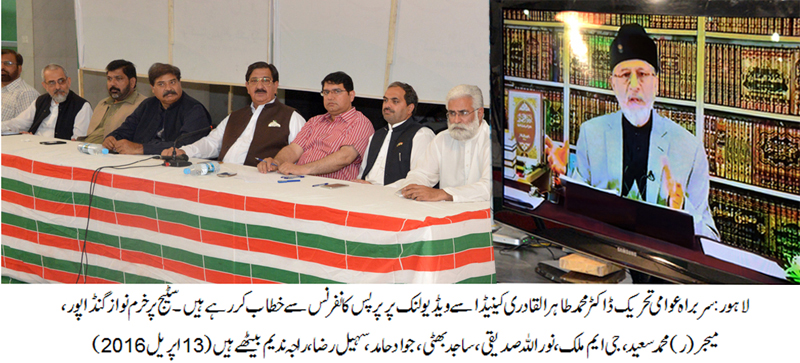 Dr Tahir-ul-Qadri said that special news items will be published in different newspapers in two to four days. Then emphasis will be placed on making these news items part of the main new bulletins and it will be said that the news of Panama leaks were also published in a paper and the news items coming in now have also been published in the same papers. This will help the spokespersons change their tone and get their 'new' facts and figures 'right' for the talk shows. He said that the former Prime Minister of New Zealand told him that corruption had eaten into vitals of the Pakistani state and society. He even revealed this that Pakistan PM Nawaz Sharif owns 49% shares in the official steel mills in New Zealand. He said that if record of 1980s is summoned, the facts will come to surface. He further said that the Queen Bench Division London gave a judgment to issue notices to the concerned parties about Hudaibiya Paper Mills, British Virgin Island in 1998 and the parties are the Sharif brothers and their family members. What else proofs does one require than these? He said that if anyone thinks that he can follow these cases by paying the fees of lawyers abroad, he is wrong to think so because no party will be able to afford the payment of hundreds of million dollars in fees. Neither PPP, not PAT, nor PTI, nor JI nor will the government pay such a hefty fee to get an adverse decision. Whosoever will pay fee will be able to get the favorable decision, adding that the nation will have to rise now to challenge the corrupt.
Dr Tahir-ul-Qadri said that if the Sharif brothers are made to stand in the court of people, they would divulge everything because lies are all over, on their tongues, in the hearts and minds. They would tell lies so much that the statement of one person would not vindicate that of the other. He asked whether the PMs of Iceland, Ukraine and Kyrgyzstan resigned after the establishment of Commission. He said that from the PM of the UK to his counterpart in Russia, none has rejected the Panama leaks. He said that only a small portion of facts has been leaked so far, a huge body of truth still remains to be exposed.
The PAT Chairman said that all political leaders were attacked but the Sharif brothers remained safe because they have soft corners for those who carry out attacks on others. They give them black money and they undertake not to launch attacks on them. He said that it is our prayer that the Army Chief is able to break the nexus between corruption and terrorism. He said that safeguarding Pakistan, Islam and humanity is just not our ideal but a creed with us. He said that Prime Minister of every country was present in the assembly at the time of discussion on the Panama leaks, asking as to why the Prime Minister of Pakistan was absent from Parliament on the occasion of its joint sitting. He said that those who earn lawful money do not need to set up offshore companies, adding that only thieves and looters establish offshore companies.
Dr Tahir-ul-Qadri said that 3 lacs and 50 thousands companies are registered in Panama and it is just the details of investments of one company, which have come to the fore. He said that time has come to hold those answerable who have been looting and plundering this nation for a very long. He said that the rulers are killers of our 14 workers, adding that as long as they are in power, there is no way we can get justice. He said that we would talk on the national agenda with all political parties including the Model Town tragedy because it is the grave incident of human rights violations.
In reply to a question, Dr Qadri said that the PM lives in the house of his mother in Raiwind. If he goes to Murree, he lives in the house owned by his wife, and lives in the house of his son when he travels to London. He travels in a Land Cruiser gifted to him. When he sets up steel mills in Saudi Arabia, the friends are ready to give him loan of millions of dollars. He asked, 'has anyone ever seen such a 'dervish' PM before'?
The PM will return to Pakistan with documented proofs of all allegations. This is his way of medical check-up. #DrQadriUnveiledFacts

— Dr Tahir-ul-Qadri (@TahirulQadri) April 13, 2016
Appoint as many as 10 Commissions after arrival of PM from London, none will be able to find a trace of money laundering & corruption.

— Dr Tahir-ul-Qadri (@TahirulQadri) April 13, 2016
No Commission can carry out transparent investigation in presence of rulers in power. The foremost solution is to send them packing.

— Dr Tahir-ul-Qadri (@TahirulQadri) April 13, 2016