Peaceful Karachi sign of peaceful Pakistan: Dr Hassan Mohi-ud-Din Qadri addresses seminar 'politics for state'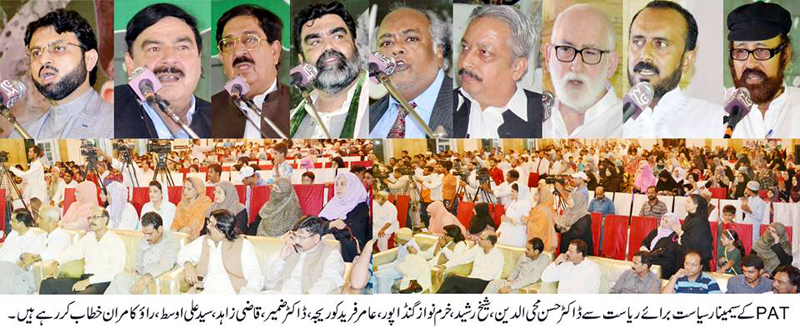 PAT (Karachi) organized a seminar titled 'politics for state' on May 28, 2016. Chairman MQI Supreme Council Dr Hassan Mohi-ud-Din Qadri presided over the seminar, whereas Awami Muslim League President Sheikh Rashid Ahmad was the guest of honour. PAT Secretary General Khurram Nawaz Gandapur, PAT Additional Secretary General Khawaja Amir Fareed Koreja, PAT Karachi President Syed Ali Oast, Qaisar Iqbal Qadri, Syed Zafar Iqbal, Masood Usmani, Mrs Rani Arshid, Ilyas Mughal, Allama Rana Nafees, Zahid Lateef, Liaqat Kazmi, Faisal Baloch, Saleem Ahmad Awan, Bashir Ahmad Marwat, and Faraz Alam were also present on the occasion. People belonging to various walks of life such as showbiz, sports, politics, education, law, and journalism attended the seminar in a large number.
Addressing the seminar, Dr Hassan Mohi-ud-Din Qadri said that progress and stability of the country is closely linked to peace in Karachi. He said that peaceful Karachi is the sign of peaceful Pakistan. He said that restoration of law and order in Karachi is an eloquent success of the law enforcement agencies.
Dr Hassan said that two years have gone by since the fateful day of Model Town tragedy and justice has not been provided to the aggrieved families. He said that it appears as if there is no justice system in the country. He said that the perpetrators of Model Town tragedy cannot escape law for long, adding that the day is not far when they will be brought to justice. He said that oppression continues to increase if people do not take steps to top it. He said that the masses need to rise up and be counted in the struggle for their rights. He said that the purpose of PAT's struggle is to make Pakistan a country of the Quaid's and Iqbal's dreams.
Sheikh Rashid Ahmad said in his speech that a state is the one which provides protection and employment to its people. He said that isolation of Pakistan in the world is a glaring failure of Nawaz Sharif. He said that they are business people and are never done with filling their coffers. He said that their greed knows no bound despite the fact that they have been looting for last 37 years. He said that 200 million people are not vegetable that their budget can be made on Skype.
Khurram Nawaz Gandapur said the rulers' businesses established as a result of corruption are spread over 23 countries. He said how a PM can ask others to invest in Pakistan when his own and his family's wealth is stashed abroad? He said that 60 million Pakistanis are living below the poverty line due to corruption of the ruling family and poverty rate is increasing by the day. He said that every department of Pakistan is corrupt due to politics of 'Muk Muka'.
Khawaja Amir Farid Koreja also spoke on the occasion.