Implementation of Articles 62 & 63 a must for strong democracy: Dr Tahir-ul-Qadri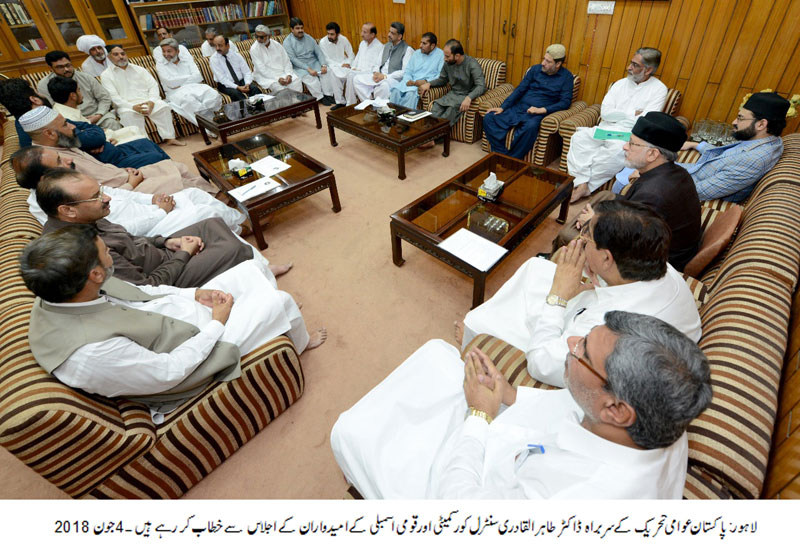 Addressing a joint meeting of central Core Committee and the PAT's candidates for elections, Chairman Dr Muhammad Tahir-ul-Qadri said that Articles 62 and 63 will have to be implemented as per their spirit in order to give respect to vote, voters, parliament and democracy. Otherwise all the dirt will come back to assemblies, leading to intensification of political crises in the country. He said that is a matter of great surprise that legal protection has been provided to hiding of important information including local and overseas assets, criminal record and default history.
Dr Tahir-ul-Qadri said that if corruption and illegal practices have to be eliminated from the country, then the people will need to send honest and trustworthy representatives to the assemblies who can speak on their behalf and raise their voice for the interests of the people they represent. He said that all sources that promote corruption will have to be eliminated, which is possible only when Articles 62 and 63 of the Constitution are complied with in letter and spirit. He said that nation has high hopes from these Articles which will have to be fulfilled.
The meeting of the Core Committee will continue today as well. After the conclusion of the meeting, Dr Tahir-ul-Qadri will talk to media. The meeting was attended by the candidates who the party will field in the next elections.