Sohail Ahmad Raza congratulates Hindu community Diwali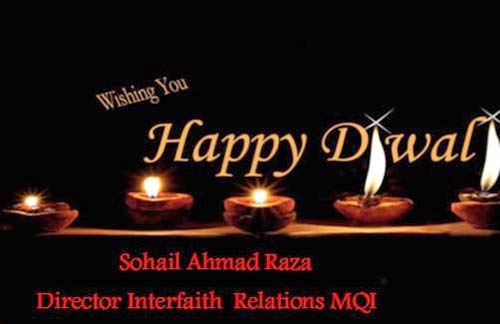 Sohail Ahmad Raza, Director of Interfaith Relations, congratulated the Hindu community on the festival of Diwali. He said that the festival marks the replacement of darkness with light in the society and elimination of oppression and ignorance. He said that the Hindu community has been celebrating this festival in line with their religious customs. He said that all non-Muslim citizens living in Pakistan including the Hindus have complete religious freedom under the Constitution of Pakistan. He further said that all minority communities have contributed to the socio-economic development of the country.
Meanwhile, Sohail Ahmad Raza met the noted Hindu leaders namely Pandit Bhagat Lal, Dr Monhar Chand, Amarnath Randhawa, Pandit Vijay Kumar and others and congratulated them on the happy occasion of Diwali.