Quran Khawani held for martyrs of Model Town at over 300 places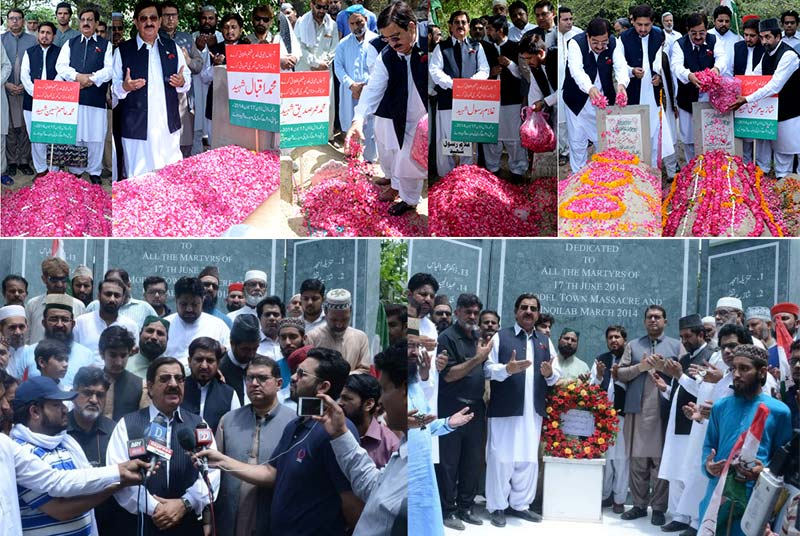 Quran khawani was arranged for the souls of the martyrs of Model town tragedy at more than 300 places across the country under the banner of PAT and MQI on the completion of five years of the Model Town massacre. These ceremonies were held to pay tributes to the men, women and youth who were martyred by Punjab police in the worst act of brutality committed in the broad daylight of June 17, 2014. The people paid their homages by holding banners, and placards and laying floral wreaths on the graves of the martyrs.
A delegation of PAT leaders and workers led by Khurram Nawaz Gandapur, Noorullah Siddiqi, and Hafiz Ghulam Farid presented themselves at the graves of the six of the martyrs in Lahore, placed floral wreaths and offered Fateh. They also visited the residences of the families to express their solidarity with them and gave this message that MQI and PAT continue to stand by the families of martyrs through thick and thin. The delegates also went to the graves of Tanzila Amjad and Shazia Murtaza Shaheed and made Dua for their souls.
Speaking on the occasion, PAT Secretary General Khurram Nawaz Gandapur said that the blood of martyrs is a debt on us. He said that we would continue to strive for justice till the last breath. He said that the cowardly rulers chronicled a chapter of abiding shame in the annals of history by getting the police to spray live bullets on the faces of the women workers. He said that the blood of the innocent citizens was shed. He deplored the fact that five years have gone by but justice is still elusive. He said that the martyrs are our pride and benefactors.
In his conversation with the family members of the martyrs, Khurram Nawaz Gandapur said that we have remembered the martyrs and consider them to be our heroes. He said that the sacrifices they rendered will not go in vain. He said that the Sharif brothers perpetrated the Model Town tragedy just to protect their power and ill-gotten money, adding that they will have to answer for every drop of the blood.
A prayer ceremony was held at the central secretariat in Lahore. A large number of PAT and MQI workers attended it. The prominent leaders present on the occasion included Chaudhry Afzal Gujjar, Ishtiaq Hanif Mughal, Haji Farrukh, Engr. Sanaullah Khan, Ikhlaq Hussain, Muhammad Asghar Sajid, Chaudhry Iqbal, Mian Muhammad Hanif, Mirza Nadeem Baig, Ramzan Ayubi, Muhammad Haseeb, and others.