PAT, MQI delegation lays floral wreath on the memorial of martyrs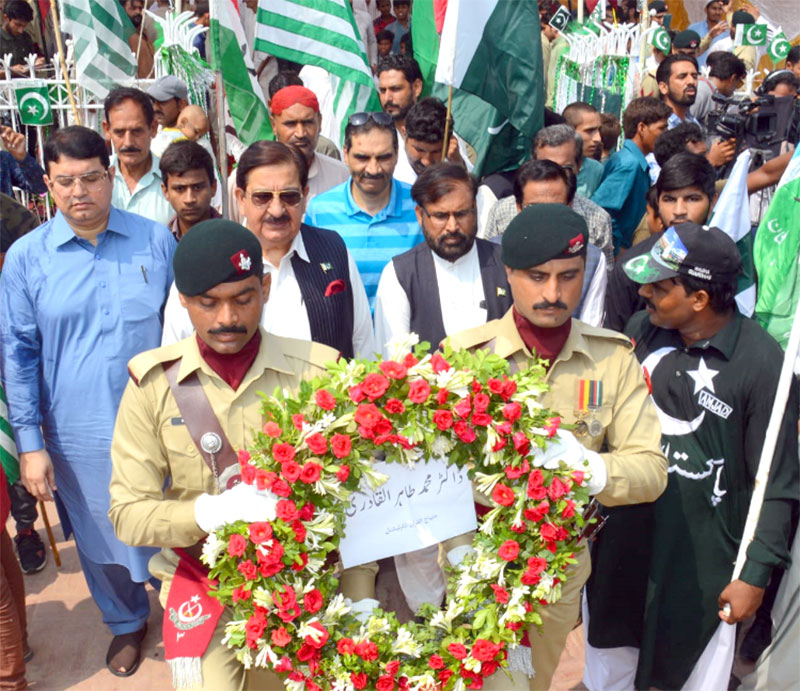 A delegation of senior PAT and MQI leaders visited the memorial of martyrs of 1965 war in Batapur under the leadership of PAT Secretary General Khurram Nawaz Gandapur on the occasion of Pakistan Defence Day. The delegates laid the floral wreath at the memorial and offered fateha for the departed souls of the martyrs. Noorullah Siddiqui, Arif Chaudhry, Sohail Ahmad Raza, Saqib Bhatti, and a larger number of workers were present on the occasion.
After laying the floral wreath, Khurram Nawaz Gandapur talked to the media men and stated that Pakistan came into being due to the martyrs' blood and it is their blood which is protecting the territorial integrity of the country. He warned if anyone cast an evil eye on Pakistan, the people of Pakistan will join their armed forces to foil all such conspiracies.
The PAT Secretary General said that the martyrs of the 1965 war are the heroes of the nation. They fought a much bigger and seemingly more powerful enemy in that war with unparalleled conviction and patriotism. He said that it was due to their exemplary courage that the enemy did not dare put its foot on the land of Pakistan.
Khurram Nawaz Gandapur further said that the people of Pakistan are peace-loving and want to live in peace. He however added in the same breath that if anyone tried to shed blood of humanity due to power intoxication, then he or she should know that Pakistan is a nuclear-armed country, stating that we acquired this power for the defence of the motherland.