Awami Tajir Ittihad hosts reception in honor of leaders of Businessman Front & FPCCI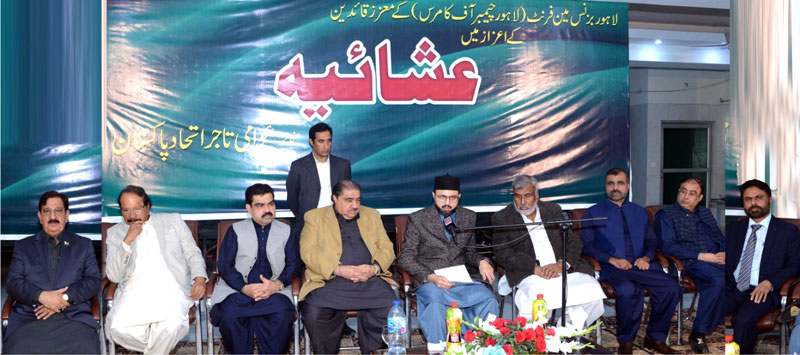 Awami Tajir Ittihad, a traders' wing of Pakistan Awmi Tehreek, hosted a dinner reception in honor of the office-holders and businessmen of Pakistan Chamber of Commerce (FPCCI) and Industry and Lahore Businessman Front. Addressing the reception, Chairman MQI Supreme Council Dr Hassan Mohi-ud-Din Qadri said the traders' community has a central role to play in the stability of the national economy, elimination of unemployment and the promotion of general welfare. He said the government and its concerned organizations should prioritize the resolution of the problems facing the traders and the business community of our country. He said when the real representatives of the traders would come forward to place their demands before the government, no issue will remain unresolved.
Dr Hassan Mohi-ud-Din appreciated the commitment of Amjad Chaudhry, Chairman of Businessman Front, and other leaders towards the struggle for resolution of their community's problems. Amjad Chaudhry thanked Chairman Supreme Council for the support that Awami Tajir Ittihad extended to his group on the occasion of elections. He said the purpose of visiting the MQI's central secretariat was to personally express our gratitude for the support. He said he made a vow with himself in the Holy Ka'aba that he would not fall victim to any expediency or greed in his mission for the resolution of the problems facing the traders and business people.
Chairman Awami Tajjir Ittihad Haji Muhammad Ishaq, president Altaf Randhawa, and secretary-general Rashi Chaudhry welcomed the delegation of Businessman Front on their arrival at the central secretariat. PAT Secretary General Khurram Nawaz Gandapur, Noorullah Siddiqui, GM Malik, Jawad Hamid, Shahzad Rasool, and Qazi Faiz-ul-Islam also attended the reception. The visiting traders and business people included Sardar Usman Ghani, Mian Javed Ali, Syed Azmat Ali Shah, Raja Hassan Akhtar, Tahir Malik, Sheikh Fazal Elahi, Chaudhry Sultan Mahmood, Riaz Tajjik, Nabeel Mahmood, Jasim Saddique, Agha Iftikhar Ahmad, Sajid Aziz Mir, Masood Alam Butt, Asif Khan and Atif Ameen.
A documentary, showing the global network of MQI, its projects of public welfare and the future targets, was shown to the traders' community members, which they greatly appreciated. They said MQI leader Dr Tahir-ul-Qadri rendered exemplary services for Islam and Pakistan and that they are proud of what he did.
Khurram Nawaz Gandapur invited the guests to visit Orphan Care Home, Minhaj Welfare Society, and Minhaj Education Society which the leaders of the traders' community accepted. Amjad Chaudhry, Chairman of Lahore Businessman Front, announced to get life membership fo the MQI. Dr Hassan Mohi-ud-Din Qadri congratulated him on this. The participants of the reception prayed for the departed soul of the late father of Rashid Chaudhry.