Daughter of Model Town prisoner Abdul Latif laid to rest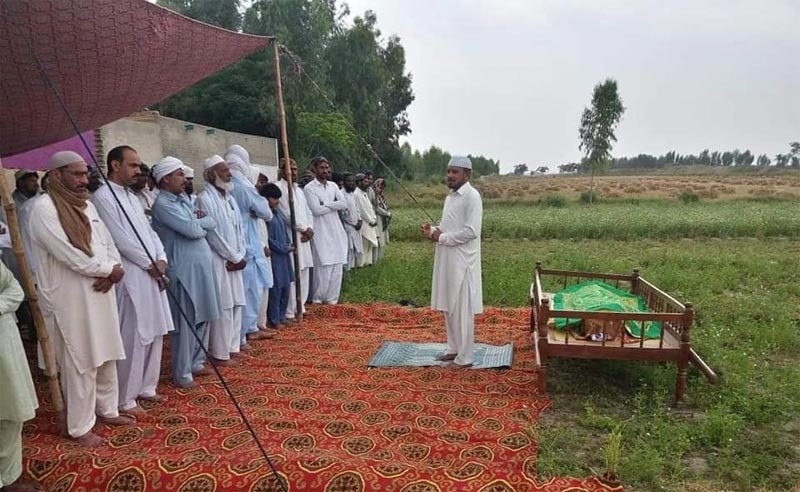 PAT Secretary General Khurram Nawaz Gandapur has said that Bushra Bibi, the 14-year-old daughter of Abdul Latif who is serving a term in Bhakkar jail in the Model Town case, passed away after suffering from a lungs disease. He said that despite efforts, the incarcerated father did not get the permission to see the face of his dead daughter for the last time as she was laid to rest amid sobbing and tears last night.
Khurram Nawaz Gandapur said that there are two laws in Pakistan; one for the rich and the other for the poor. He said that we tried our level best to get imprisoned father released on parole so that he could attend the funeral prayers of his daughter. He said what to speak of extending help on compassionate grounds, no police official bothered to attend the telephone call. He said that the offices are opened even on holidays for those who have money in their pockets whereas the poor do not get anything except humiliation. He asked prime minister Imran Khan if it is the New Pakistan he had promised; the one in which the poor remain deprived of justice.
Meanwhile, the founding leader of MQI Shaykh-ul-Islam Dr Muhammad Tahir-ul-Qadri expressed his deep sense of grief and sorrow on the death of Bushra. President MQI Dr Hussain Mohi-ud-Din Qadri also telephoned the bereaved family and expressed his deepest condolences to them.
PAT Spokesperson Noorullah Siddiqui said in a statement that the father of late Bushra Bibi did not get the permission to attend the funeral prayers of his daughter because he was not a billionaire. He said as long as this system and bureaucracy and the current system are there, the poor will continue to be humiliated. He said that Abdul Latif protested the oppression perpetrated in Model Town on which police registered a case against time and sent him to prison for seven years. He said, on the other hand, those who killed 14 innocent citizens and injured 100 people are still at large and no one has been able to hold them to account to this day.
PAT Secretary Information said that those who are protecting the system and depriving the opposite of the right to justice will meet their fate one day and the whole world will see their horrible end. He said that the Duas are being made for the protection against coronavirus today, asking how will Allah's mercy descend on land where the week and the poor are subjected to tyranny?