PAT Lahore takes out rallies, visits martyrs' memorials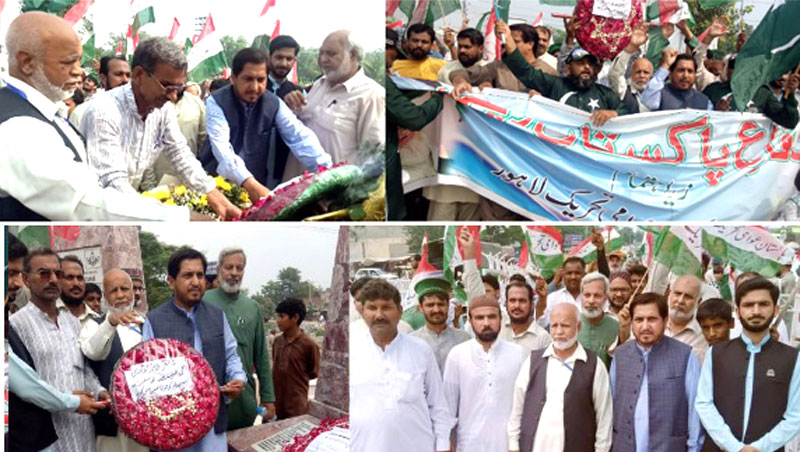 A number of special prayer ceremonies and seminars were held in different cities under the title of the Defence Day of Pakistan in different cities of the country under the banner of Pakistan Awami Tehreek. The PAT leaders and workers visited the graves of the martyrs who laid down their lives in the 1965 war, laid floral wreath on them and prayed to Allah Almighty to rest the departed souls in peace.
A Difa-e-Pakistan rally was taken out from Manawan to the Wahgha border under the leadership of Chaudhry Afzal Gujjar, Hafiz Ghulam Farid, Shafaqat Mughal, Saqib Bhatti, and Haji Amjad. The rally was attended by a large number of people who were carrying flags, banners, and placards with slogans in support of the Pakistan army written on them.
The PAT Lahore leaders visited the grave of Nishan-e-Haider Major Aziz Bhatti Shaheed at Manawan, laid a floral wreath there on behalf of Dr Muhammad Tahir-ul-Qadri, and offered Fateha. They also offered floral wreath at the grave of Nishan-e-Haider Major Shabbir Shaheed.

Meanwhile, Difa-e-Pakistan rallies were also taken out in Lahore, Gujranwala, Gujrat, Faisalabad, and Rawalpindi under the aegis of PAT Central Punjab chapter. Local leaders including Mian Rehan Maqbool, Mian Abdul Qadir, and Mian Kashif led these rallies. People belonging to various walks of life attended the rallies and chanted slogans in support of the Pakistan army for its exemplary sacrifices. The participants paid rich tributes to the martyrs. Special Dua was made for the departed souls.
Addressing the rallies, the PAT leaders said that we are proud of our valiant armed forces who also rose to the occasion to defend the motherland against the cunning enemy. They said that the nation demonstrated exemplary unity in the 1965 war to give a befitting response to the Indian army. They said that September 6 reminded us of the sacrifices offered in protecting our freedom. They said the takeaway lesson from the war is that the country can battle all internal and external challenges only when we forge unity in our ranks.