Palestinians are part of our body: Qazi Zahid Hussain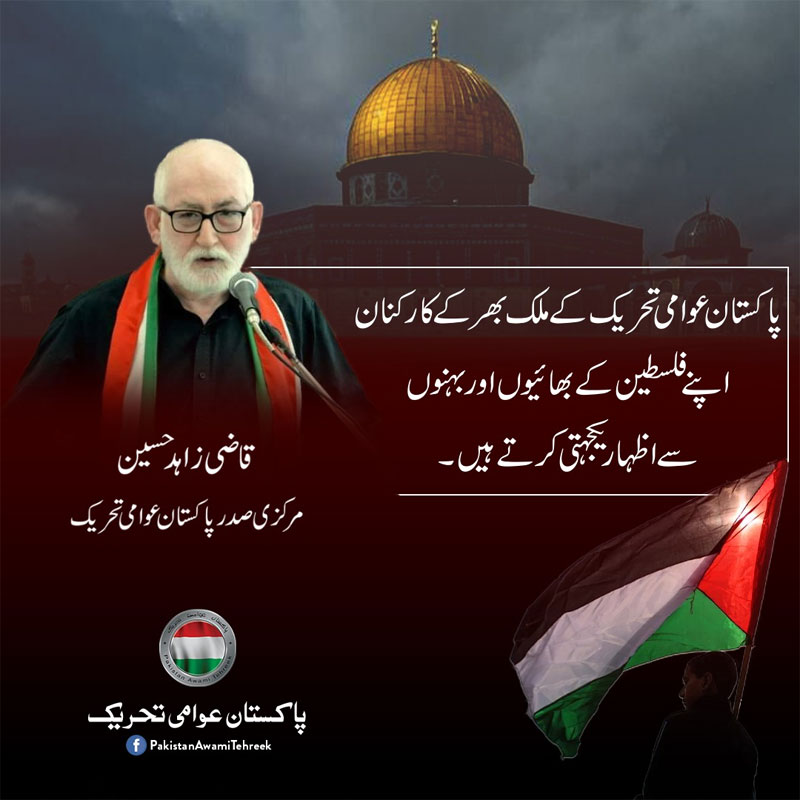 Central President PAT Qazi Zahid Hussain has said that the workers, and associates of PAT and the followers of Dr Tahir-ul-Qadri express their unflinching support and solidarity with their Palestinian brothers and sisters. He said that we strongly condemn the Israeli brutalities on unarmed Palestinians and demand of the international community to rein in the Zionist state from carrying out ethnic cleansing of Palestinians.
Qazi Zahid Hussain said that Israel has committed war crimes by knowingly targeting civilian population. He said that children, women and elderly suffered the most during the aerial bombardment. He said the images from Al-Aqsa, and Gaza have injured the hearts of Muslims around the globe, adding that we stand in complete solidarity with our Palestinian brothers and sisters.
Qazi Zahid Hussain asked the UN to carry out a damage assessment report in Gaza and announce reconstruction package. He said that the injured need the best medical care. He said that all the roadblocks should be lifted and the member countries of the UN should be allowed to send relief aid to Palestine. He said that it is unfortunate that the UN Security Council showed its ineffectiveness as the Palestine crisis escalated, stating that this inaction has caused widespread disappointment on the role of the UN.
PAT President said that the PAT workers took out rallies to mark the Al-Quds Day throughout the country and gave a message that Palestinians are like part of our body and we feel their pain and sufferings. He said that the Israeli aggression against Palestinians have poured salt into the wounds of Muslims around the world. He asked the OIC, Arab League and the UN to wake up and intervene to stop the worst human rights abuses in Palestine.