Restoration of JIT inevitable for justice in the Model Town case: Khurram Nawaz Gandapur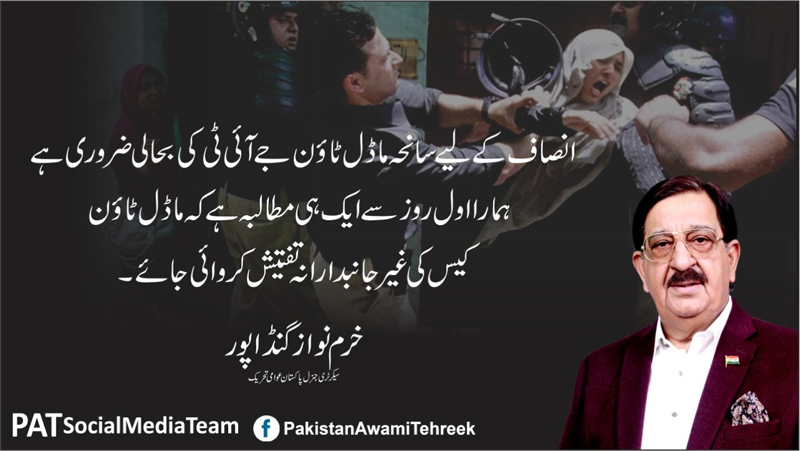 Khurram Nawaz Gandapur, a senior leader of Pakistan Awami Tehreek, has said that the party has hired the services of the leading and renowned lawyers of Pakistan to get justice for the martyred workers. He said that Barrister Syed Ali Zafar and Dr Khalid Ranjha are leading the legal team and the case is being directly supervised by Shaykh-ul-Islam Dr Muhammad Tahir-ul-Qadri.
Khurram Nawaz Gandapur said that different tactics were used to push the Model Town case under the carpet which have failed miserably. He said that the restoration of the JIT is a must to bring the killers to justice. He said that it is regrettable that this important case of national history was put at the backburner on the application of an accused constable. He said that the seven-member larger bench of Lahore High Court is hearing the JIT case and we are hopeful for justice.
PAT leader said in his statement that the Sharif brothers are the planners of the Model Town tragedy. They got partisan investigation conducted after getting the workers killed in the police terrorism to get the clean chit and did not let the eye-witnesses and the injured record their statements. He said that a one-sided challan was submitted to the anti-terrorism court which is a 'unique' incident in the history of prosecution.
Khurram Nawaz Gandapur said that our demand right from day one has been for a fair and impartial investigation into the Model Town tragedy. He said that we will not budge from this position because it is through impartial inquiry that real criminals will be brought to justice. He said that the legal proceedings of the case continue to take place under the supervision of Dr Muhammad Tahir-ul-Qadri, adding that it is due to an unwavering focus on the legal path that the Model Town case is alive and kicking and being heard by a larger bench. He said that we will continue our struggle for justice till the last breath of our lives.
A team of senior lawyers consisting of Barrister Syed Ali Zafar Advocate, Dr Khalid Ranjha Advocate, Azhar Siddique Advocate, Anwar Akhtar Advocate, Lehrasib Gondal Advocate, Naeem-ud-Din Chaudhry Advocate, Asif Sulehria Advocate, and Shakeel Mumka Advocate appeared before the larger bench as legal counsels of the families of the martyrs. Complainant Jawad Hamid was also present in the court of law.