Nation is in deep sorrow over Murree tragedy: PAT leaders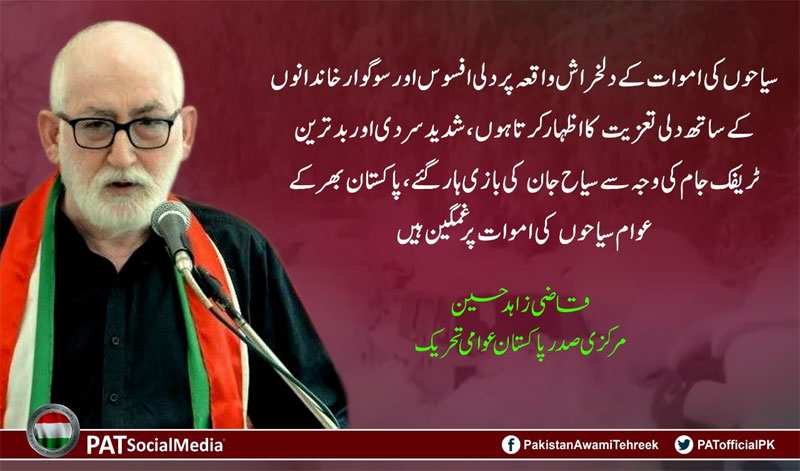 The whole nation is in deep pain and anguish over the Murree tragedy in which scores of individuals lost their lives in extreme cold. We share the grief and sorrow of the bereaved families who lost their loved ones in the tragedy and pray to Allah Almighty to rest the departed souls in peace.
These views were expressed by central PAT President Qazi Zahid Hussain and Secretary General Khurram Nawaz Gandapur in their joint statement. They said that a combination of heavy snow and rainfall left the people stranded on the roads and caused the loss of such precious lives.
The PAT leaders said that the district administration should have made requisite arrangements keeping in view the large influx of people coming to Murree. They said that the provision of timely information and red alert would have saved tourists the agony of traffic jams and ensuing tragedy.
The PAT leaders stated that incompetence and mismanagement combined to cause a tragedy that has plunged the whole nation into a state of grief. They asked as to why hundreds of thousands of people were allowed to drive their way to Murree when the capacity to absorb them was limited. They demanded a complete probe into the tragedy and said that SOPs need to be put in place to avert such horrible incidents in future.