Kidnapped son of PAT Lahore president not recovered even after six days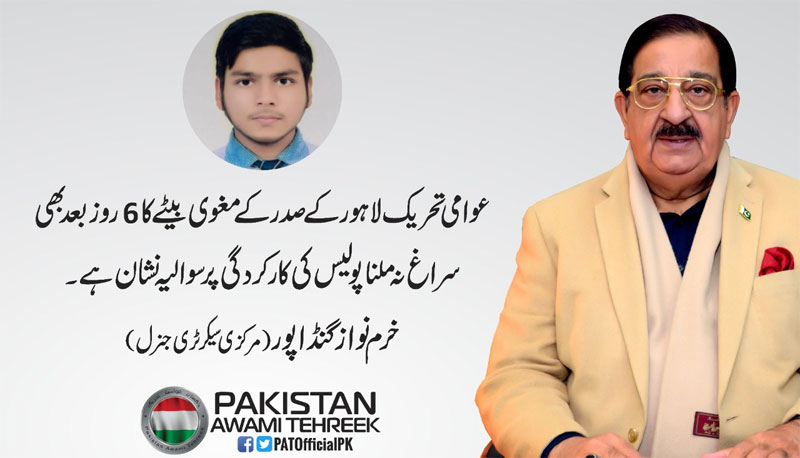 Seven days have gone by since the son of PAT President of the Lahore chapter Dr Sultan Mehmood Chaudhry was kidnapped. However there is no trace of him so far. The FIR is registered with Gulshan-e-Iqbal police station.
Dr Sultan Mehmood Chaudhry has appealed to the government to use modern tools and get help from the agencies for the recovery of his kidnapped son. He said that he is deeply worried over his son, Hafiz Imran Ali's health, and safety.
Secretary General PAT Khurram Nawaz Gandapur has said that six days have passed but unfortunately, Hafiz Imran Ali has not been recovered, adding that it raises a question on the performance of police and law enforcement agencies. He said that Sultan Mehmood Chaudhry is extending his full cooperation to the police but there doesn't seem to be any headway in the case so far.
Khurram Nawaz Gandapur said that we already requested IG police to depute a team of experienced investigators that may work day in and day out to recover the kidnapped Hafiz Imran. He said that the law and order situation has deteriorated immensely in Punjab. He said that the protection of life and property of the people is the foremost responsibility of police, and stated regretfully that it is not doing justice to this duty. He said that our concern is increasing with the passage of time.
PAT Secretary General asked IG Punjab to personally supervise the the efforts for recovery of Hafiz Imran. He said that Sultan Mehmood Chaudhry registered an FIR with Gulshan-e-Iqbal police station but no progress has taken place on the case afterwards.