Manzoor Wattoo calls on Dr Hassan Mohi-ud-Din Qadri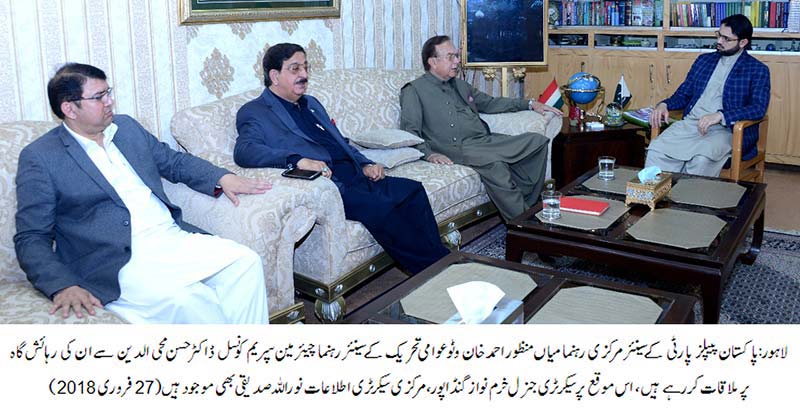 Senior PPP leader Mian Manzoor Ahmad Wattoo called on Dr Hassan Mohi-ud-Din Qadri at his residence the other day. Both leaders discussed prevailing political situation in the country, upcoming General Elections and the matter of justice in the Model Town case. They expressed their grave concern on the poisonous statements being given by the government high-ups and ministers against the national institutions. Terming it as an effort at fostering lawlessness and chaos, they said that the ministers had declared a war on the state institutions. PAT Secretary General Khurram Nawaz Gandapur and Secretary Information Noorullah Siddiqi were also present on the occasion.
Speaking on the occasion, Dr Hassan Mohi-ud-Din Qadri said that had the killers involved in Model Town massacre been held accountable on time, they would not have dared ridicule the state institutions. He said that we are of the considered view that in order to deal with the mischief of the rulers, the opposition parties should get united on one point agenda.
Mian Manzoor Wattoo said on the occasion that we would not let the Sharif brothers repeat the history of launching an attack on the SC. He said that protecting the dignity and honour of the state institutions is the moral, political, democratic and constitutional responsibility of all the patriotic political forces. He said that Dr Tahir-ul-Qadri played his role well when he brought the whole mainstream opposition on the single platform. He said that we think that the opposition parties should rise above their narrow interests in for the larger good of the state and society.
Manzoor Wattoo said that it never happened in Pakistan's history that a political party encourages the lockout of the civil secretariat, which is the centre of public service. He said that it is an open act of war against the state. He said that bureaucrats should also have considered that they took an oath of allegiance towards the state of Pakistan, not that of a family. He said that such a practice is very dangerous for the country and the evil needs to be nipped in the bud.
Khurram Nawaz Gandapur said that the PML-N is monopolized by a single family. He said that it retained unity in its ranks over corruption in the past and they are doing it the same this time round as well. He said that the ruling family does not have any money trail to offer and is using the party as a shield. He said that the days of the Sharifs in power have been numbered. He said that the whole world knows Nawaz Sharif as a corrupt and disqualified person.