Chief Justice must take notice of "circular Tyranny", Dr. Tahir-ul-Qadri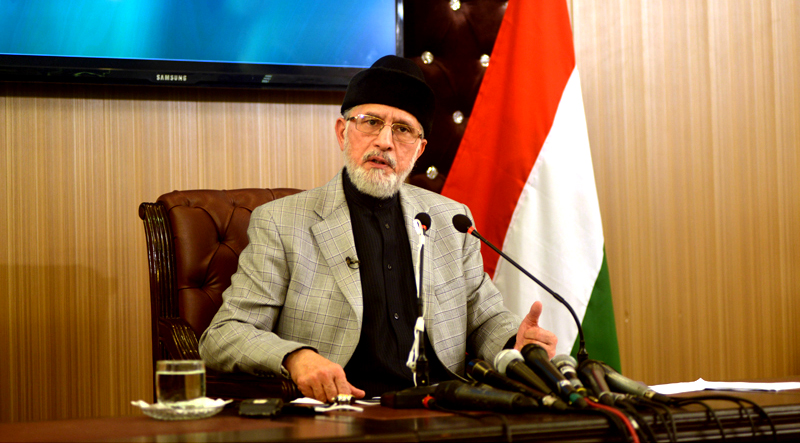 Lahore (4th July 2018) Quaid of Pakistan Awami Tehreek Dr. Tahir-ul-Qadri has said consecutive hike in Petrol and electricity prices is unwarranted, caretaker Govt. must mend her ways, if burden of 150 billion circular debt is transferred to masses, then it would be worst kind of exploitation by state of her people. Chief Justice of Pakistan must take notice of this "circular Tyranny". In his telephonic address to members of Central Core Committee, he said common man must not be punished for the crimes committed by former rulers along with crimes like institutional corruption, shabby distribution system, over-rated power productions projects and contracts by Sharifs, undue profiting by power companies, power theft etc. He said there should be visible difference between governance of Caretakers and that of corrupt Sharifs. Common men should not be burdened blindly; rather they must be given relief.
He said Pakistan Awami Tehreek desisted to participate in election, because current system cannot give any relief to masses; and consecutive elections under this system will just supplement political, social and economic woes of the state. Since this system was raised on the foundations of exploitation, ill-gotten wealth, rigging and terror, so election under this system will lead political forces with foreign agenda play with impunity their game against state institutions; society will be further divide on sectarian, ethnic, religious and tribal lines.
He warned if any office holder or member of Pakistan Awami Tehreek or Minhaj-ul-Quran directly or indirectly cooperated with ticket holders of killers of Model Town massacre during elections, strict action will be taken against him. Since this is policy matter, so no justification will be acceptable in this regard. He said Sharifs shed blood of our innocent workers; unleashed brutal acts of revenge against Pakistan Awami Tehreek, tried to amend law regarding finality of Prophethood, robbed country, exploited masses, launched campaign to malign state institutions. He said there is long list of heinous crimes committed by Sharifs and none of their crime is pardonable. He said he cannot forget innocents who were ruthlessly killed in Model Town; with Sharifs he has no political differences but enmity. It is obligatory for our member not to support N league; our war with them will continue in courts till realization of justice.