PAT welcomes peace agreement between Pakistan & Afghanistan
PAT Secretary General Khurram Nawaz Gandapur has said that the resolve shown by Pakistan and Afghanistan to end terrorism and signing of a peace agreement in this regard is a welcome development. He said that no third party other than the two countries can play any role to rid the region of the monsters of terrorism and extremism. He said that since the time India has established its foothold in Afghanistan, terrorism has increased in the region, stating that India is not concerned about peace and stability inside Afghanistan.
The PAT Secretary General said that India has launched a proxy war against Pakistan by using the soil of Afghanistan. He said that it is destabilizing Pakistan. He reminded that after the withdrawal of the Soviet forces, Pakistan gave refuge to millions of the Afghans, whereas India was a stooge in the hands of the forces hell bent on harming Afghanistan. He said that it is the responsibility of the Afghan government to make sure that its soil is not used against Pakistan.
Meanwhile, AML President Sheikh Rashid Ahmad telephoned PAT Secretary General Khurram Nawaz Gandapur and exchanged views on the matters of mutual interest. Gandapur said that Sheikh Rashid always stood by the martyrs and demanded accountability of those involved in the tragedy. Both leaders agreed to meet at their earlier convenience.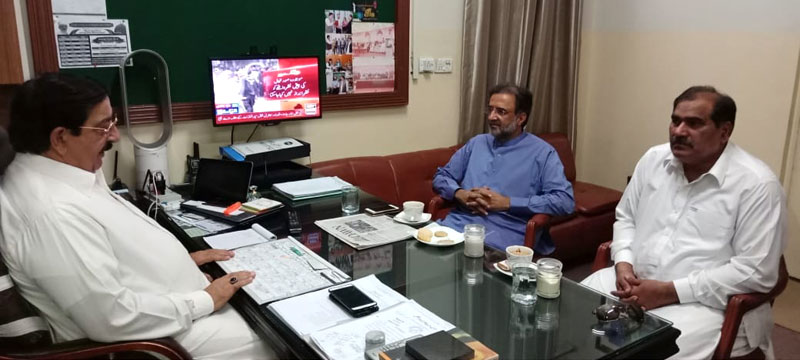 Senior PPP leader Qamar Zaman Kaira visited the central secretariat of PAT and held a meeting with Khurram Nawaz Gandapur. They discussed the prevailing political situation in the country. Khurram Nawaz Gandapur apprised the PPP leader about the status of the Model Town case and said that we are fighting a long drawn out legal battle to summon the principal accused of the Model Town massacre. He said that the full bench of LHC has reserved the judgment and we are waiting for it to be announced.
Speaking on the occasion, Qamar Zaman Kaira said that it has been the principled view of the PPP that those who shed the blood of innocent people in Model Town should be held to account and no concession should be given to the accused.