Dr Tahir-ul-Qadri reminds PML-N that does not stay the same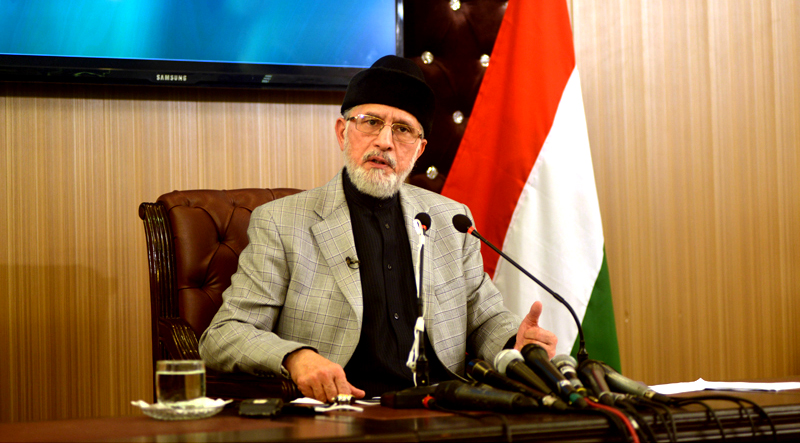 While addressing the emergency meeting of the central Core Committee, PAT Chairman Dr Muhammad Tahir-ul-Qadri has said that Shahbaz Sharif has rightly said that the time does not stay the same. He said that there was a time when Model Town tragedy happened; police unleashed a reign of terror on the peaceful political workers of PAT; scaled the walls of houses and violated the sanctity of the households; the workers were arrested, and tortured, and the direction of his aircraft was changed. Model Town was besieged for two weeks and the whole Punjab was sealed through containers so that his workers could not reach the airport for his reception.
Dr Qadri said that there was this time a few years ago and today the former ruler of Punjab is threatening the state institutions. He said that the state should not be a silent spectators and the criminals should be dealt with in the same manner in which they deserve to be treated. He said that the killers of the innocent people in Model Town are reaping what they sowed. He said that the Sharifs always defended the massacre at every step; did not allow the registration of FIR of the families of martyrs; threw spanners in the way of justice and ridiculed the blood of the sons and daughters martyred in Model Town.
The PAT Chairman said that containers were placed across the Punjab city and the whole province was turned into a prison for the PAT and MQI workers. He said that there was no case against him nor had a broken any law but still he was not allowed to land on June 23, 2014. He said that the aircraft was not allowed landing in Islamabad and made to circle in the skies. He said that Shahbaz Sharif is right that the time does not stay the same. He said that it is retribution of the nature that they have no place to hide in today. They cannot go out on the roads of London and Lahore and no place except a jail is ready to accept them.
Dr Tahir-ul-Qadri said that our workers were martyred and around 100 of them were injured with live bullets. He said that justice has not been provided to this day despite passage of four years but we have not uttered a word against any institution of Pakistan. He said that we are requesting the institutions to play their role in administration of justice and we did not let go of our patience and peacefulness.
Addressing Nawaz Sharif, Dr Qadri reminded that 25000 workers of PAT were arrested from their homes between June 17 and June 23, 2014. He said that Model Town was cut off from the rest of Lahore city and Punjab from August 1 to August 14, 2014. Even food and medicines were not allowed. The workers were barred from coming to Model Town for Quran khawani of their martyred brothers and sisters. He said that today the PML-N leaders say that we are peaceful people and our workers should not be arrested.
Dr Tahir-ul-Qadri said that the PML-N is not a political party but a group of corrupt and oppressive people. He said that those who kill innocent people and run a campaign against judiciary and the Pakistan armed forces cannot be peaceful. He said that Shahbaz Sharif wanted to save a convict from arrest in the garb of reception. He said that these miscreants should be dealt with iron hands. He said that coverage of the convicts should be banned in the same way as that of Altaf Hussain. He said that there is no difference between thoughts and statements of both with regard to the state of Pakistan. He said that any leniency if shown to Nawaz Sharif will be akin to compromising the national security.