Trial of Nawaz Sharif should be conducted in jail: Dr Tahir-ul-Qadri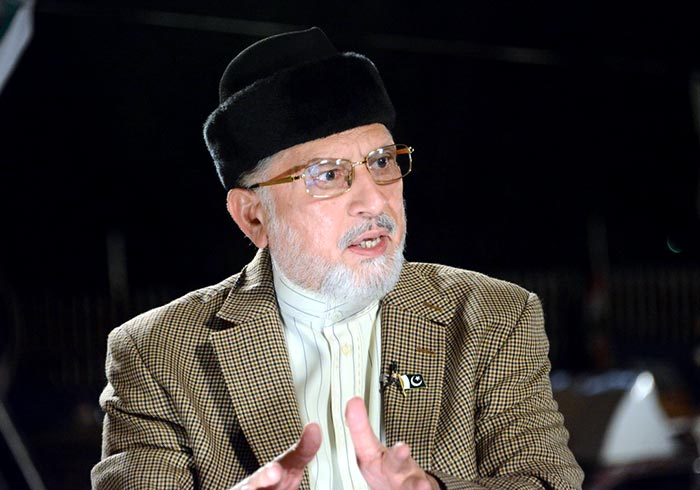 Responding to the statement of President PML-N Shahbaz Sharif wherein he stated that it is the terrorists whose trial is conducted in jails, PAT Chairman Dr Muhammad Tahir-ul-Qadri has said that Shahbaz Sharif is right that the trial of terrorists is conducted in jails, stating that both Nawaz Sharif and Shahbaz Sharif are terrorists who killed 14 innocent people in Model Town besides injuring 100 other people. He said that both of them are principal accused and an FIR with terrorism clauses has been registered against them on the orders of the court. He said that the FIR has not been dispensed with as yet.
The PAT Chairman said that the decision of Lahore High Court regarding summons of Shahbaz Sharif in Model Town case has been reserved. He said that the Sharif brothers come up to the definition of terrorism as per the national laws and it is for this reason that the court ordered the registration of case with terrorism charges. He said that the accountability court ruling has stamped on their being economic terrorists and we await the decision on the case of terrorism wherein they took the innocent lives.
Dr Qadri said that Model Town tragedy reflected the height of their arrogance, power intoxication and the desire to stay clung to the chair and it is the same tragedy that became the reason for the start of their downfall. He said that Nawaz Sharif is a terrorist and has no right for allotment of B class, stating that his trial should be conducted in jail. He said that he should be attached with a privileged prisoner as a worker because that is what jail sentence and jail manual says. He said that Nawaz Sharif committed economic terrorism with the country and the Governor of the State Bank has been led to say that things have become really tough with loans as well. He said that present system gifted us with arrogance, economic bankruptcy, corruption and incompetence.