Dr Tahir-ul-Qadri asks Shehbaz Sharif to share how many of his workers killed on July 13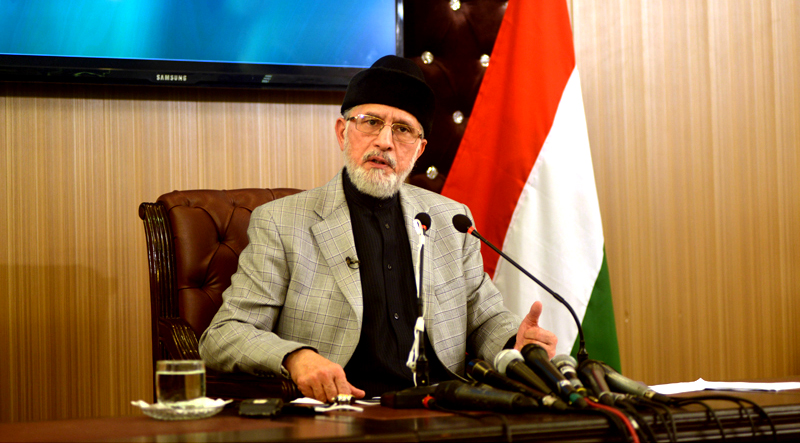 PAT Chairman Dr Muhammad Tahir-ul-Qadri has asked former Punjab Chief Minister Shehbaz Sharif, who has been making hue and cry about police action on July 13, to tell as to how many of his workers were killed, how many were tortured and imprisoned and how many had their bones broken. He reminded the former chief minister that it was on June 17 that police sprayed bullets on innocent people on his orders, in which 14 persons including two women were martyred, and around 100 were injured. The police conducted raids on the houses of the workers, arrested hundreds of them and registered FIR with terrorism provisions. The family members of the workers including women were harassed. More than 25,000 were kept in illegal custody. Containers were placed across Punjab. Many of those injured in Model Town are still undergoing treatment and facing the anti-terrorism court.
Dr Tahir-ul-Qadri said that if Shehbaz Sharif does not have the facts and figures about his workers, then he should be ashamed of lying. He said that the people of Lahore boycotted the homecoming rally on July 13 for the convict. He said that flower pots would have broken had the masses come out.
The PAT Chairman made these remarks while talking to the workers soon after his arrival in Italy in connection with an educational and training conference. He said that the younger brother of Nawaz Sharif remained the ruler of Punjab for ten years. He did not improve schools and hospitals, at least he could have chosen to improve the conditions of jails so that his brother could not have had to request for small facilities contrary to the jail manual and these facilities would have been made available without his asking. He said that the facilities that the national convict, Nawaz Sharif, is asking for himself, soon his younger brother will also be seen to be similar requests.
Dr Qadri said that if Nawaz was shifted out of Adiala into Sihala Rest House, then it will be a joke with the law of the land and violation of the constitution. He said that the Constitution of the country says that all citizens are equal in the eyes of law and no one can enjoy any privilege. He said that Nawaz Sharif is entitled to those facilities that are available to the convicts under the law.
Dr Tahir-ul-Qadri said that he has heard that someone by the name of Abid Boxer appeared in the court of law and stated in a TV interview that there was a plan to kill him (Tahir-ul-Qadri) as well during the Model Town operation and he is claiming to have secrets regarding the Model Town massacre. He said that in order to know the facts, it is better if a powerful Panama-type JIT is constituted to unearth the motives of Model Town tragedy and provide justice to those whose near and dear ones were killed in police encounter on the orders of Shehbaz Sharif.