Nawaz Sharif attacking state institutions: Dr Tahir-ul-Qadri
PAT Chairman Dr Muhammad Tahir-ul-Qadri has said that a convicted party imprisoned in jail is spending its ill-gotten money like water to weaken the army and divide the judiciary. He said that whenever adverse judgments came against Nawaz Sharif, he attacked judiciary and tried to undermine the institution. He said that allegations raised by a judge of the high court against his very own institution is a serious matter, stating that the army has appealed to the Chief Justice of Pakistan to take notice of the allegations. He demanded that the allegations should be thoroughly investigated. He said that the criticism has strengthened the narrative of the enemy-country.
Dr Tahir-ul-Qadri said that the timing of the allegations suggests that efforts are being made to aid the convicts from every side. He said had elections been held after completion of the accountability process, the thieves and robbers would not have had the chance of raising their finger. He said that even now dozens of candidates who are involved in heinous and grave crimes are contesting elections. He stated that if guilty verdicts are handed down after they win elections, they will make victory signs as parliamentarians and demand perks in jails.
Dr Tahir-ul-Qadri said that the attention of those involved in Model Town tragedy not as much on elections as on defaming the state institutions and protecting their ill-gotten wealth. He said that they are not looking for votes to serve the country but to free the convicts from jails. He said that decisions of import are being given but we await those that summon Nawaz Sharif and Shahbaz Sharif and hold them accountable for the merciless killing of innocent people in Model Town.
Meanwhile Dr Tahir-ul-Qadri strongly condemned the bomb blast in DI Khan and expressed his deep sense of grief and sorrow on the martyrdom of PTI candidate Ikramullah Khan Gandapur. He said that this is the fourth consecutive act of terrorism ahead of elections, which shows the precarious state of law and order in the country. He expressed his condolences to the bereaved family and demanded of the security institutions to protect the life of the people.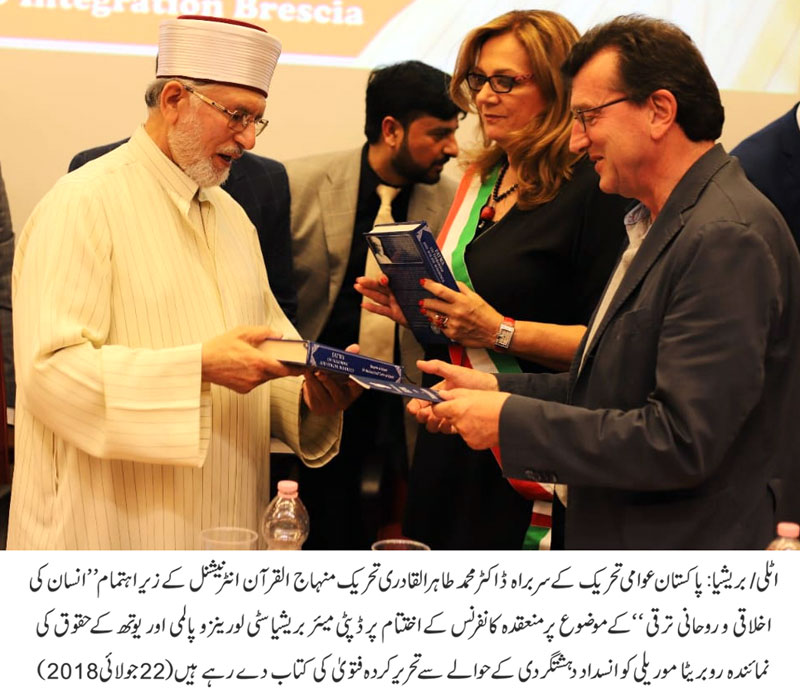 Later, the PAT Chairman addressed a conference on the moral and spiritual development of man in Italy. The event was attended by the office holders of MQI and its branches and workers of the party. A large number of the members of the Pakistani diaspora community were also present on the occasion. Top ranking Italian officials were also in attendance. They were gifted his Fatwa on terrorism and suicide bombing on the conclusion of the ceremony.
The Italian guests lauded the services of Dr Tahir-ul-Qadri for elimination of terrorism and extremism and for promotion of interfaith harmony.