Masterminds of Model Town tragedy looking for excuses to flee country: Dr Tahir-ul-Qadri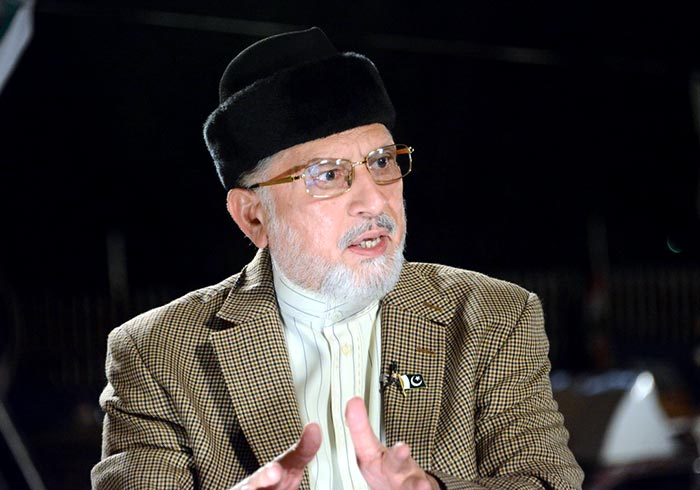 PAT Chairman Dr Muhammad Tahir-ul-Qadri has said that the masterminds of Model Town tragedy are looking for excuses to run away from the country. He said that no murderer should be allowed to leave the country till the final verdict of the court. He said that we will soon file an appeal in the Supreme Court regarding the summoning of the masterminds, stating that consultation with the lawyers is in the final stage in this regard. He said that seeking justice for the martyrs of Model Town carnage is our topmost priority, adding that we have been waging a legal struggle for last four years.
The PAT Chairman asked the federal and the Sindh governments to announce special package for the poor families and children of Thar. He said that taking care of those hit by hunger, drought and other calamities is the responsibility of the government. He said that the poor and the downtrodden sections of society have a prior right on the resources of the country.
Dr Tahir-ul-Qadri made these remarks while talking to the delegation of Minhaj Ulama Council that called on him. He said that the country is going through crucial phase in its national life. He warned that the looters and plunderers will go to any extent to blackmail the state to save their skins. He said that the state will have to make its presence felt. He said that the mafia attacks either in the form of the rulers or the opposition.
Highlighting the need for bold decisions, Dr Qadri said that the country would do well to learn from the accountability model followed by Saudi Arabia and China to recover looted wealth. He said that Saudi Arabia retrieved billions of dollars from the corrupt in a short span of time. He said that a system that supports and fosters corruption, nepotism, lies and tragedies should be done away with. He said that the looters will not return the stolen wealth, stating that the NAB should go a step ahead than sending notices and making arrests.