PAT holds a flag-hoisting ceremony to mark Independence Day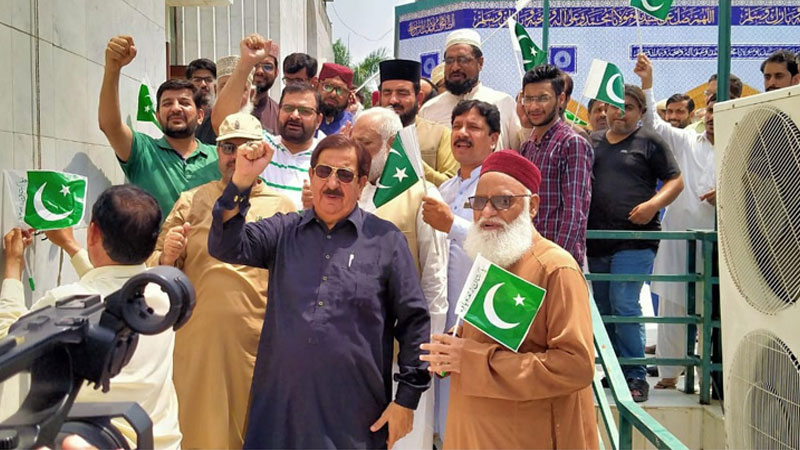 A flag-hoisting ceremony was held at the central secretariat of Pakistan Awami Tehreek on the occasion of the 73rd Independence Day. Dua was made for peace, progress, and prosperity of the country on the occasion. Senior PAT leaders including Khurram Nawaz Gandapur, Jawad Hamid, Syed Altaf Hussain Shah, Syed Musharraf Shah, Mazhar Mahmood Alvi, Naeem-ud-Din Chaudhry Advocate, Tayyab Zia, Ijaz Malik attended the ceremony. A large number of workers and officeholders were also present on the occasion.

A seminar marking the Independence Day was also held at the central secretariat. The speakers said in their speech that in addition to celebrating the day, we should also introspect as to what went wrong and why and what needs to be done to fix the things. He said all citizens of the country will have to be granted rights to education, health, justice, and employment as per the requirements of the Constitution.
Emphasizing the need of across-the-board accountability, the PAT leaders said that the policy of zero tolerance for corruption should not remain confined to the announcements. They said those who are convicted in the corruption cases end up getting bails. They said the Quaid-i-Azam warned against the threats posed by nepotism and corruption that he said could eat into the vitals of Pakistan. They said the same has happened in the absence of any strong anti-corruption policy at the national level.
Raja Zahid Mahmood, Arif Chaudhry, Chaudhry Afzal Gujjar, Mazhar Mahmood Alvi, Hafiz Ghulam Farid, Mir Ahsan Munir, Shafqat Ali Mughal, Syed Imdad Hussain Shah, Noreen Alvi and Haji Farrukh addressed the seminar.